I was riding home from work on Friday, Oct 17, when this happened: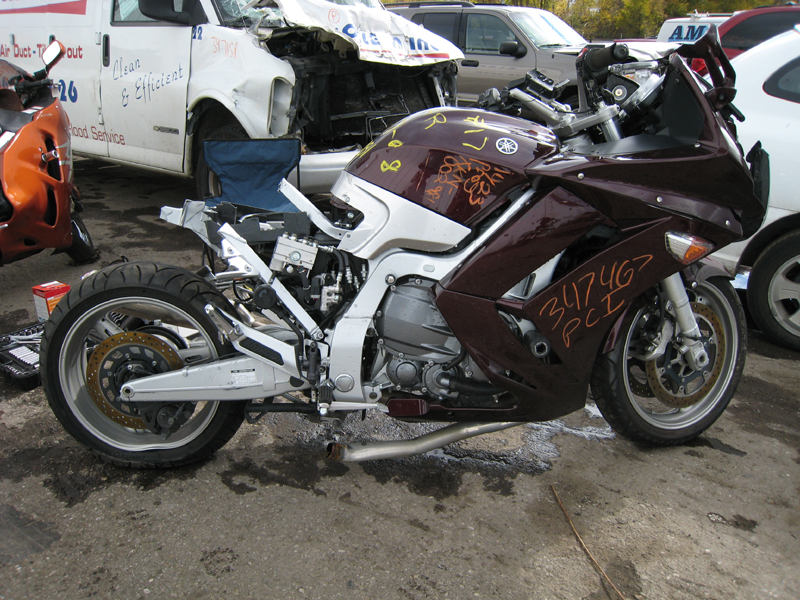 (more pictures after the story)
I only vaguely remember seeing some headlights in my mirror swerving around from behind the car that was next to me, but don't remember anything about the collision. I remember hitting the ground (really hard), then I remember hearing voices, but feeling like I was trying really hard to wake up from a dream. I was unconscious for a while and had amnesia (had no clue what day it was or where I was). I was eventually loaded into an ambulance and taken to the E.R. where I went through a cat scan, x-rays and an ultrasound of my internals to check for internal bleeding. Everything checked out OK except for a fractured leg, so they splinted it and sent me on my way after a total of about 8 hours.
I have not seen the police report yet, but I have talked to a couple witnesses who indicated that no one saw the actual collision. They just saw bike parts and my body flying through the air, and one car swerve to avoid running over me. The car that hit me left their front bumper behind, but did not return to the accident scene.
This was on a divided road with 3 or 4 lanes in each direction, and U-turn lanes for getting across the median to head in the opposite direction. I was in the left-most lane. I don't know if I was slowing for a red light, getting up to speed, or if I was flowing with traffic at about 50mph. We think a car may have shot across from the K-Mart entrance (on my right) to the turn-around lane (on my left) and plowed right through me along the way (going nearly perpendicular to the flow of traffic) because they cut it so close to the car next to me that they didn't see me. It appears that I was "t-boned" on the back half of my bike. The impact from the car tore the whole rear end of the bike off. We've also determined that the car must've actually hit my leg (hence the fracture), and that the impact probably sent my bike into a partial front-flip, catapulting me off, then landing almost upside down on its front end (see front-end damage in the pictures). I have no idea how far away from the impact I landed or the bike. Hopefully the police report will mention that.
Here's the injury list:
Fractured right fibula (smaller of the two bones in the lower leg).
Entire right lower leg is a lovely mix of green and yellow (probably deep bruising from being crushed between the car and the bike).
Large dark purple, yellow and green bruise on right hip, sore shoulder, sore knees, sore lower back, sore neck (heck, sore everything!) and headache (from landing on the ground).
Mystery bruises on right thigh.
Mystery quarter-sized scrape and bruise on inside of left knee (maybe got caught on some of the twisted/broken frame of my bike as I was ejected?).
No road rash!
I've never had multiple injuries like this and I'm learning that the total pain/exhaustion is much greater than the sum of the individual injuries. I can't even imagine if I hadn't been wearing the full armored riding gear and full-faced helmet.
As for the guy that hit me, I am not aware of any information that could lead to them being found besides the bumper they left behind. The combination of insurance through my employer and through Progressive has completely taken care of me and leaves me with very little motivation to put any effort into finding the driver. I'd be happy enough if they just wonder if they killed someone for the rest of their life. Since I'm OK, I doubt the police will go after them either.
I've already received a check from Progressive for the bike (only about $200 less than what I paid for the bike when it was brand new) plus $3k for riding gear and accessories. A new 2009 FJR will be mine in January; already made a deal for $14k OTD (~$13,250 before taxes, etc.), and Progressive is covering the sales tax
Now for the pictures...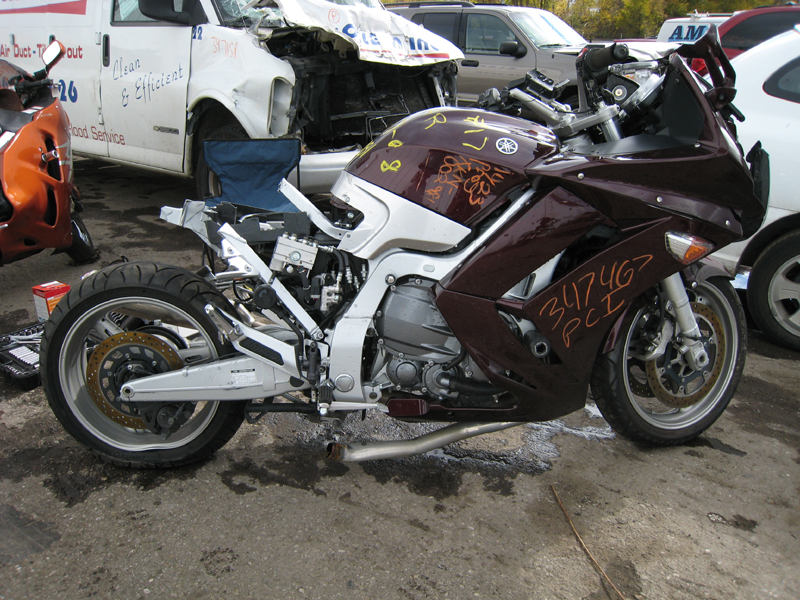 Notice that the front end of the bike is shoved over to the bike's right side.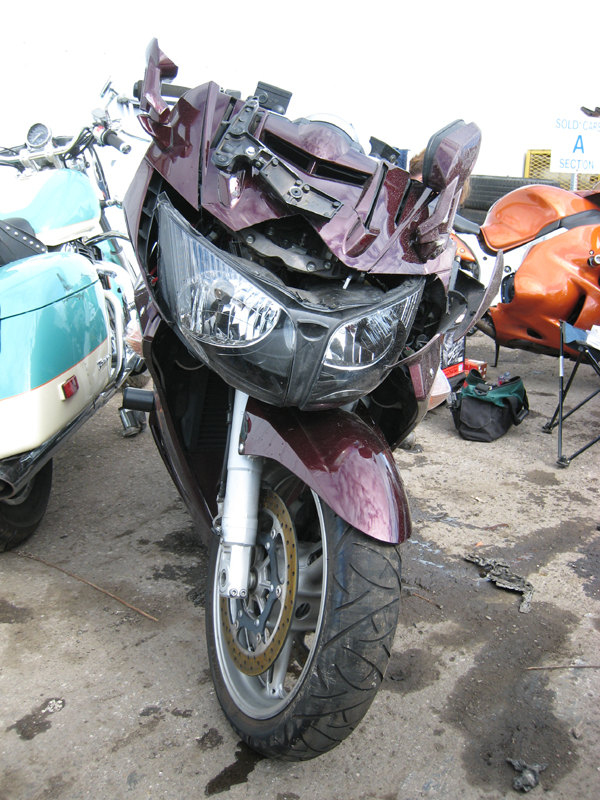 My new Scorpion EXO-400 helmet:
Note the stress crack (upper circle) and missing vent cover+scrapes (lower circle). Looks like I hit both the side and back of my head at some point: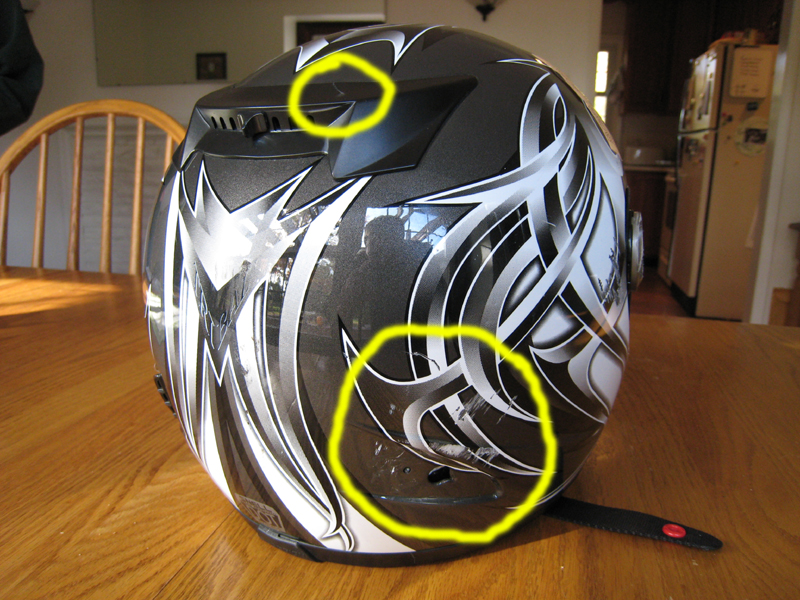 This is the right shoulder of my Joe Rocket Alter Ego 2.0 jacket. The shoulder armor probably saved me from some serious shoulder injuries: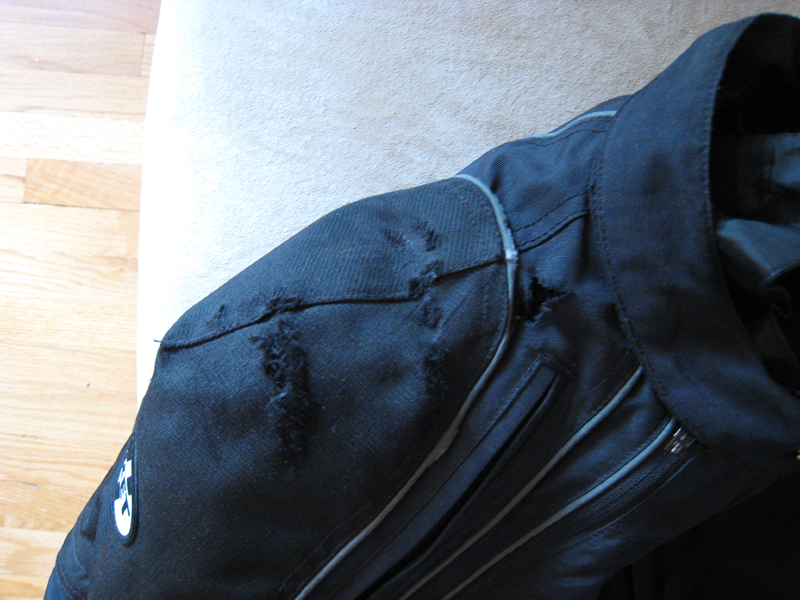 This is the right hip of my Joe Rocket Phoenix 2.0 pants. There's padding there, but not as thick/hard as the padding for the shoulders, elbows and knees: