First, background: I bought my '05 from a local guy who had gone over to the BMW world. He (Glenn) signed onto this forum back when he bought the bike new, but really never posted much or ever after that, being a busy guy, I guess, and running his own business. His business is electronics--he makes and installs stereo systems for cars and boats, primarily. But he also developed this new kind of lights and installed the prototype on his Beemer--I think it's the R1200GS.
Anyway, he'd done some quality installs and mods on his/my FJR (Hellas, grips, powerlet etc.) so I was not reluctant to be a guinea pig when he called and asked if I'd bring my new/his old bike into his shop so he could take measurements to fit mounting brackets so he could expand to the FJR market. To shorten this up, after I made a couple trips out there, he had the new parts fabricated, and he gave me a good deal on a set--a "tester's discount" or something--and I had the new lights on when I rode up to Nakusp--the only ones. They got good reviews from the folks up there who saw them.
He's interested in getting them out there, and will offer a discount if there's interest here. First of all, here's his website:
Clearwater Lights.
About the site, as of right now, the site mentions they have a kit for the '03-'05 FJR only, since that's what he fitted them onto. But now he's double-checked, and the measurement fits both generations, so year of bike is not an issue.
Here's what I can tell you about the lights.
o They're LED (3-light cluster in each housing) so they draw VERY LITTLE current (about 1 amp each). They will not burn out before you do. He says the light output per side is roughly equivalent to a 55-watt halogen light, but hard to be exact as the light is 1) a different color—white, and 2) more diffused. For approaching vehicles, the white light
really
stands out from the much yellower light of the headlights.
(Read Glenn's post later in this thread for better info.)
o They're DIMMABLE (rheostat controlled). I believe there are no other dimmable LEDs on the market anywhere. Glenn's got a patent attorney researching and a patent may be pending now. At full brightness, these things SHOW UP! You can lower the power if you want, or are getting too many high-beam flashes (and yes, I've had several). LOVE 'em for lane splitting (hooray for California)!
o They're BRIGHT. I bought them to BE seen, but they provide significant fill-in light on the road at night I'm hoping some of the folks at CFR will chime in on this point, as I aimed them up a dark alley in the Kuskanax parking lot and showed the effect of different combinations of lights. By the way, these are mounted right down on the front axle, so they point wherever you turn the wheels.
o Blue is the standard housing color, but others are available. I think he's charging $20 extra for non-blue ones. He can tell you about available colors.
(ADDED: See Glenn's post--no. 31 on this thread. He is WAIVING THIS CHARGE as a part of this limited-time FJR Forum-only deal!)
o Listed cost for the full kit is $475 (all brackets, controls, wiring, whatever). Assuming he gets half a dozen orders or so, he'll sell to forum members (identify yourself) for $400—at least for now. I believe he said "shipped."
Double check on that.
CONFIRMED
You contact him by phone or email to order or ask questions.
ADDED JULY 14TH: Glenn has already been honoring that $400 price for anyone who contacts him and i.d.'s himself as a forum member--See later posts in this thread. AND THIS DISCOUNT WILL CONTINUE ONLY UNTIL THE END OF THIS MONTH. ORDER BY 7/31/09
o Installation is very doable if you have some electronic know-how. I watched them do mine at the shop, since it was the first FJR and they wanted to learn the setup. They just tapped into the headlight circuits (explained in the instructions I am sure) and the physical mounting was pretty straightforward. You just need to find a good spot for the dimmer switch controller on the dash panels with a little space behind it. Mine (Gen I with some things already mounted on panel D) is on panel C, the upper right one. Glenn said they'd install for $100 (Sacramento area) if desired. He's already placed these lights at the local BMW dealership and they're charging $150 to install, for comparison. But I do believe most of you can do it.
o One other thing. There's a larger version in the works that would be mounted on the fairing, like those big round Solteks, which are about the same size. 6 large LED bulbs instead of my 3 small ones, but dimmable and a low (10 amps total) power draw. Much brighter than the small ones (I saw a mockup prototype). What I really like about these is, being dimmable, you could run with them all the time, or whenever you wanted, unlike the super-bright-or-completely-off Soltek or similar lights that are only usable in certain areas and traffic conditions. No info on price or timing, but very interesting.
o I am NOT involved in the ordering of these, organizing a formal "group buy," or have any stake in the business. I like the quality of these lights and vouch for it, plus I appreciate the deal he gave me. I'd like to see these out in the FJR world. I'd love to pass some other feejers shining these LEDs back at me sometime.
Here's what I'm talking about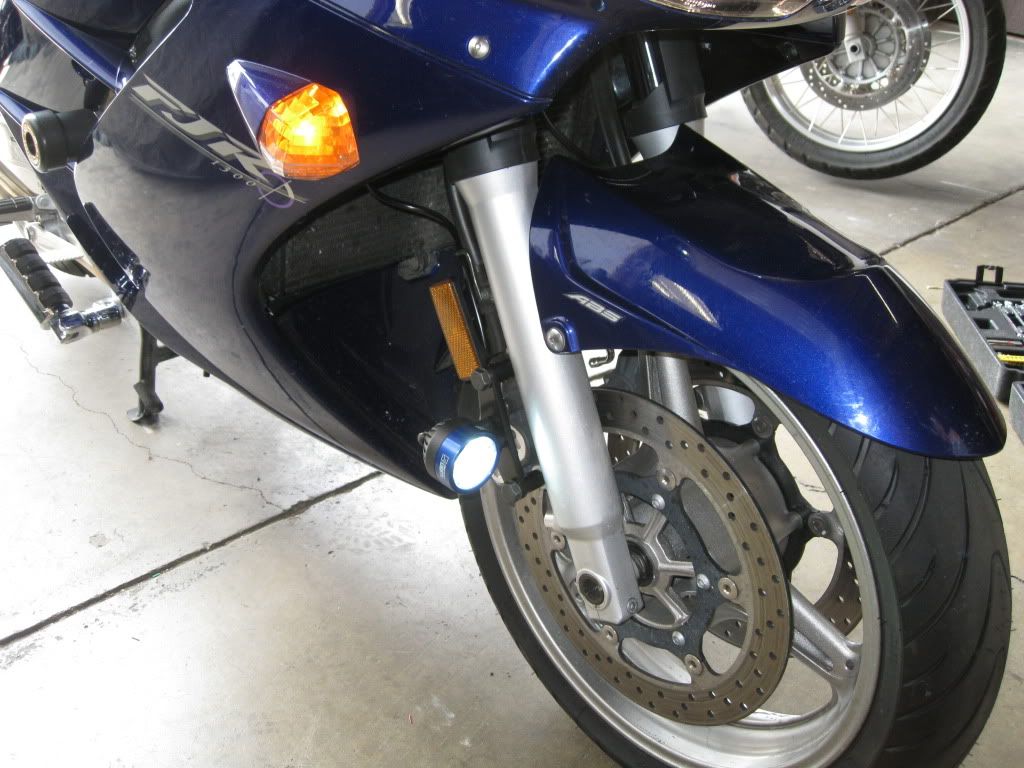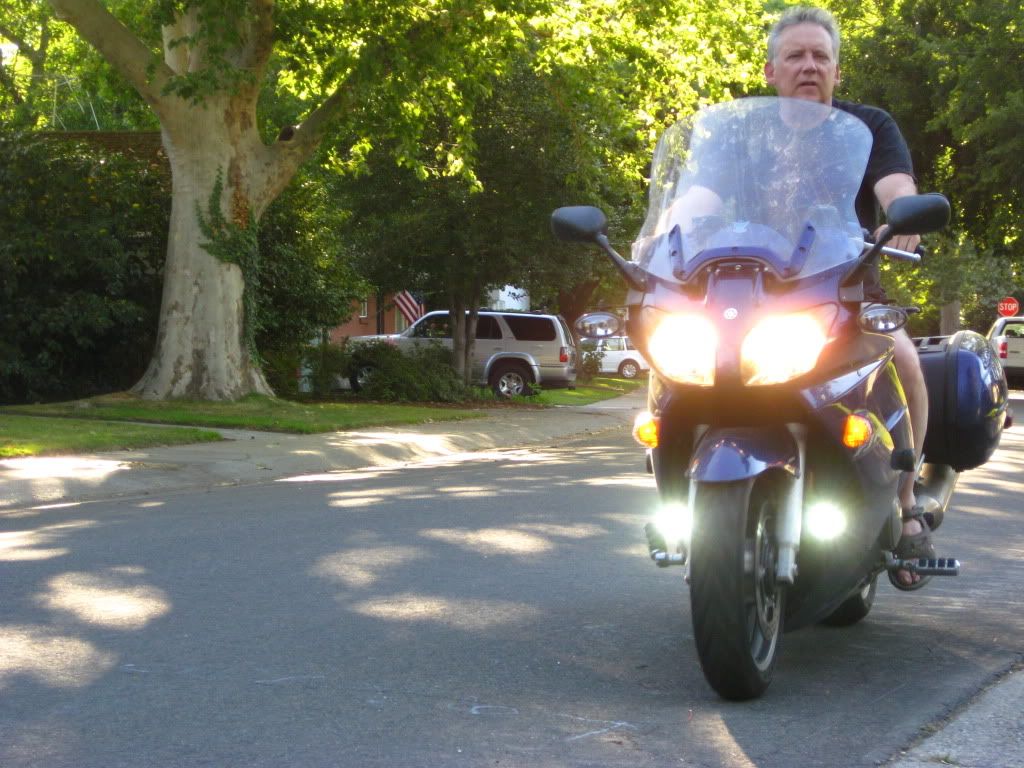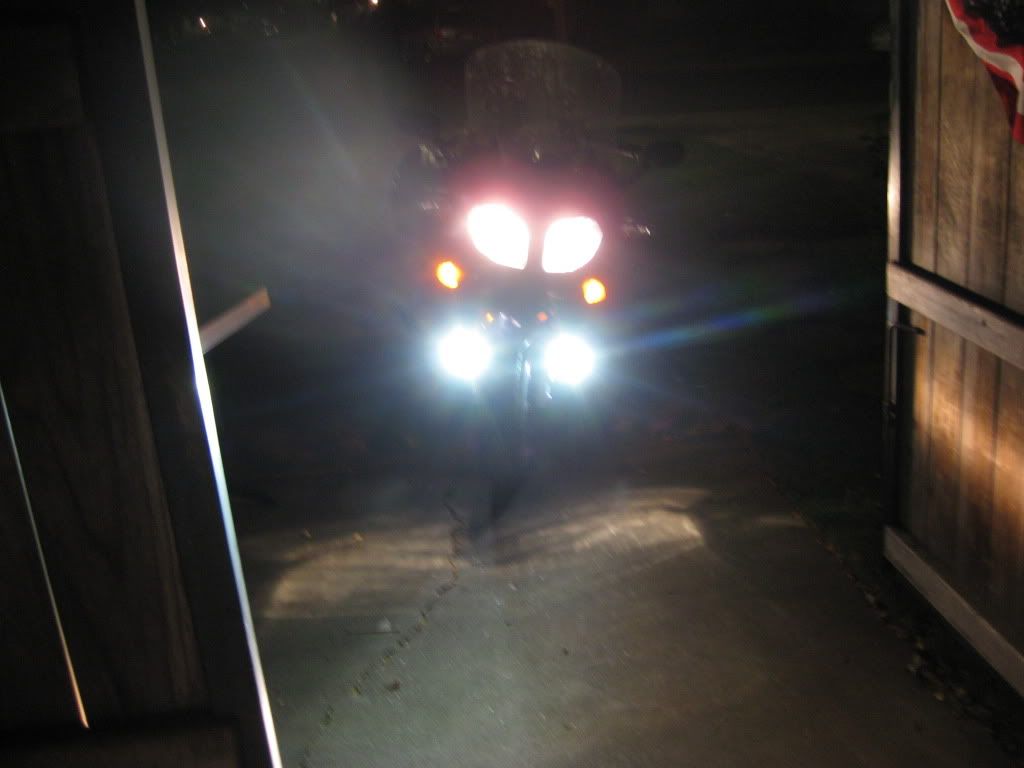 Here's where the dimmer is located on my bike. Lots of mounting options.
Coming at you (Should have called Old Michael over to take these pictures, huh?)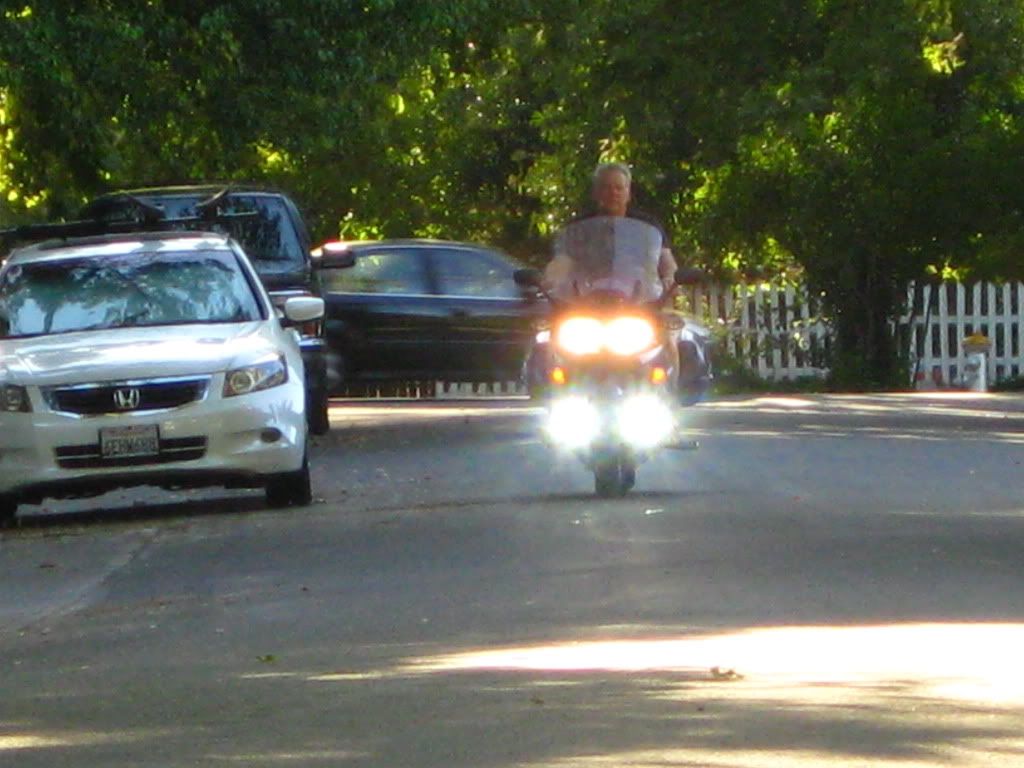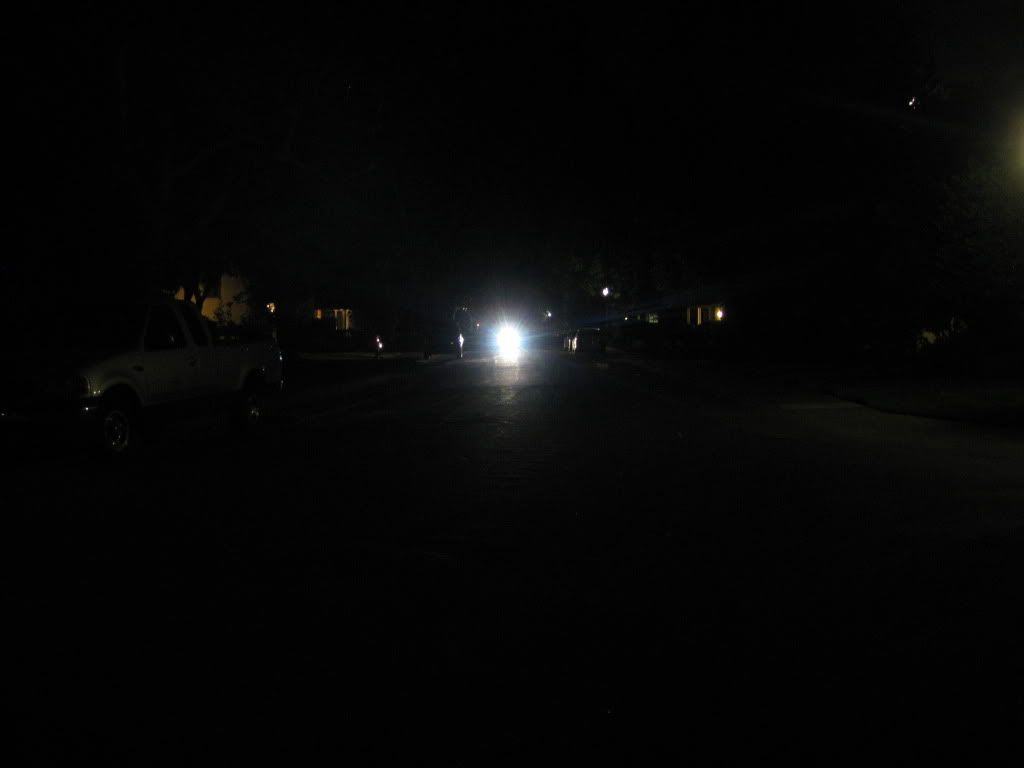 With lights at minimum brightness (headlights only), then at maximum. Compare the white pickup, for example.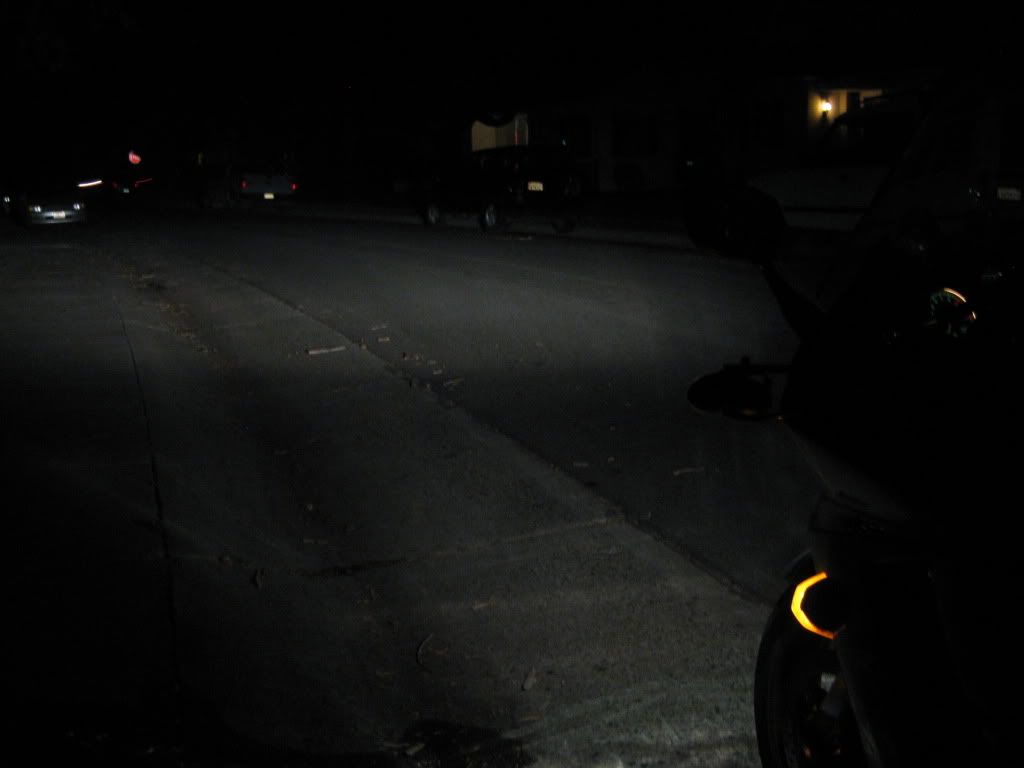 If you have questions, you can pm me or just post, or contact Glenn thru his website. Hope you folks who saw these up in Nakusp will chime in with any thoughts. Re-reading my post, I want to say it again, if I sound like a cheerleader for these things, it's cause I think they're very cool. No other reason. Thanks.