The alarm went off at 5am not that I needed it; I was already up excited to get on the road on my first solo cross country ride. I had ridden to the west coast last year with a couple buddies so I knew what was ahead of me. With the goodbyes and promises to my wife to "be good" out of the way I put the stand up at 6 and was on the road.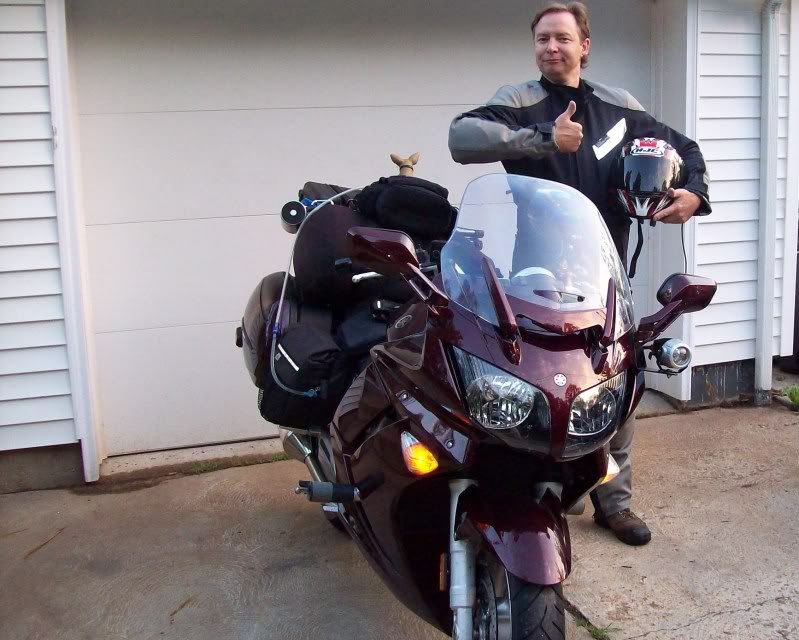 Today was to be all slab (I-80) to Colorado which I hate doing but I wanted extra time in some places Iíve not yet been to.
The ride was mostly uneventful other than the conversation I had with Trooper Wyatt of the Missouri Highway Patrol, he wanted to discuss my traveling at 13 over the posted 70. Oops.
He was very nice and respectful and cracked a little shit eatin grin when I told him I was heading to California. He ran my info and sent me on my way with a warning. THANK YOU
Trooper Wyatt for not putting bad mojo on my trip on the first day.
I also managed to snap off a key in one of my side cases so now I have one that opens without a key. Glad I carry spare keys.
870 miles later with afternoon thunderstorms prowling the area I pulled into the campground in the Pawnee National Grass Land. Camp was cheap, quiet and had running water and a shitter thatís all I needed this day so home it was for the night.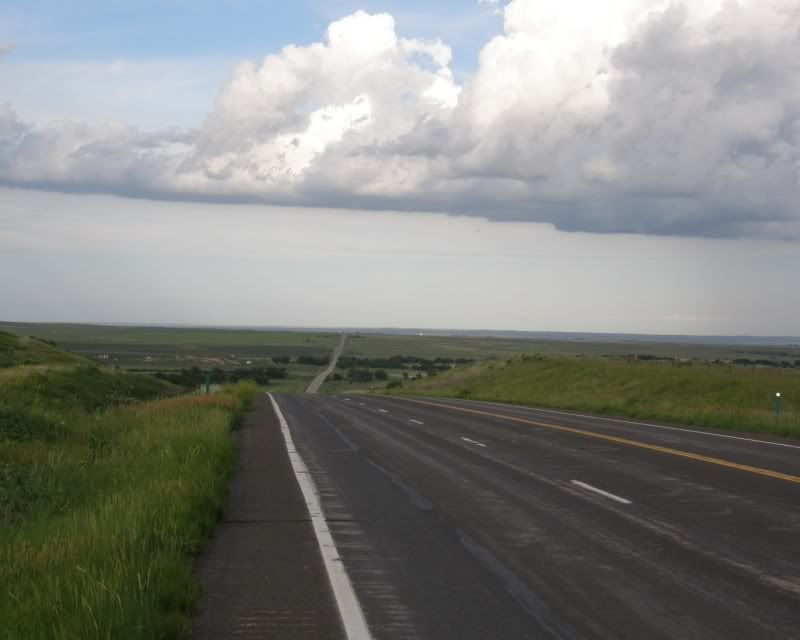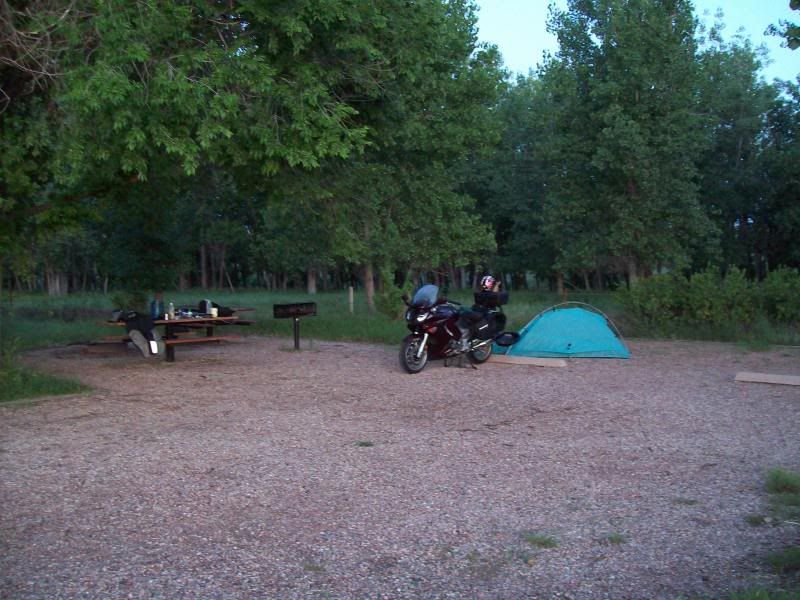 Up at 5am (again) tough for a guy that works 2nds.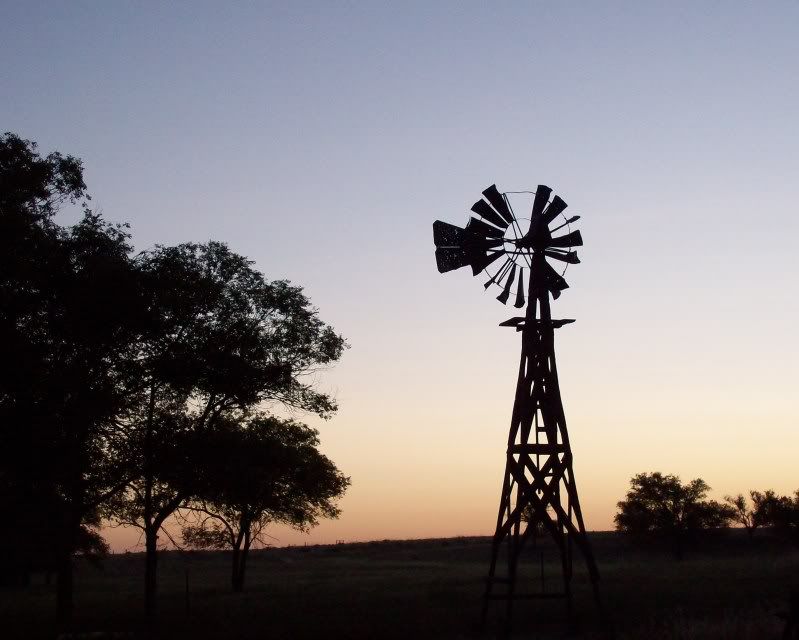 I packed up, mounted up and took CO 14 into the mountains. 14 was a lot of fun. Check it out if youíre in the area.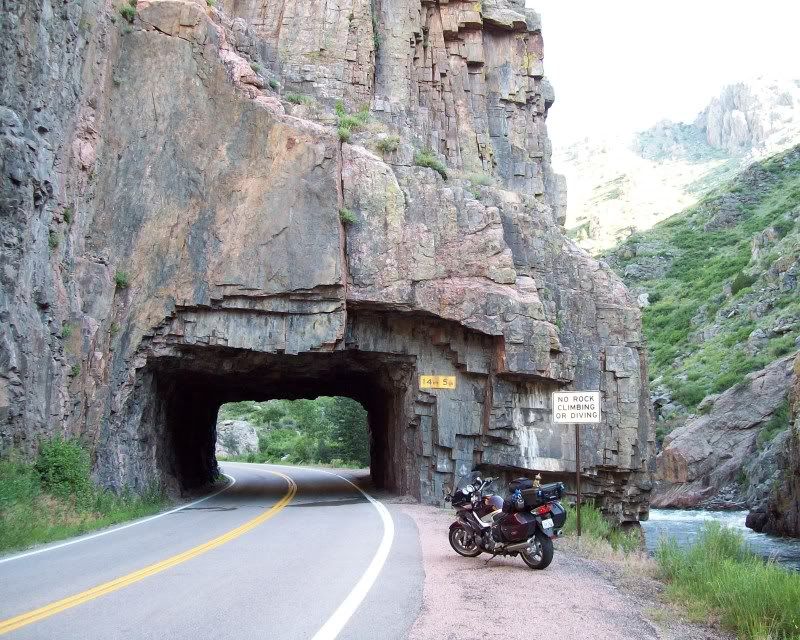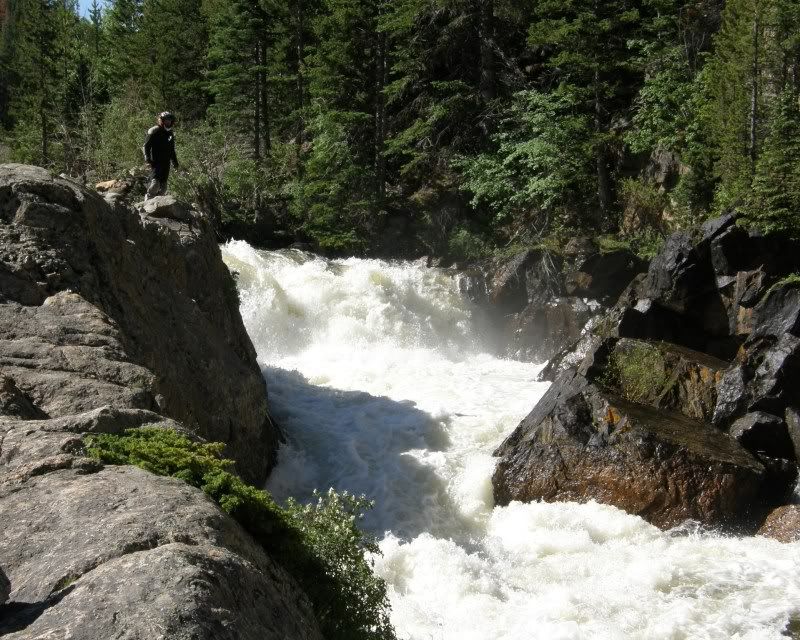 191 from Vernal to the northern reaches of the Flaming River Gorge is great, amazing vistas, and kick ass sweepers.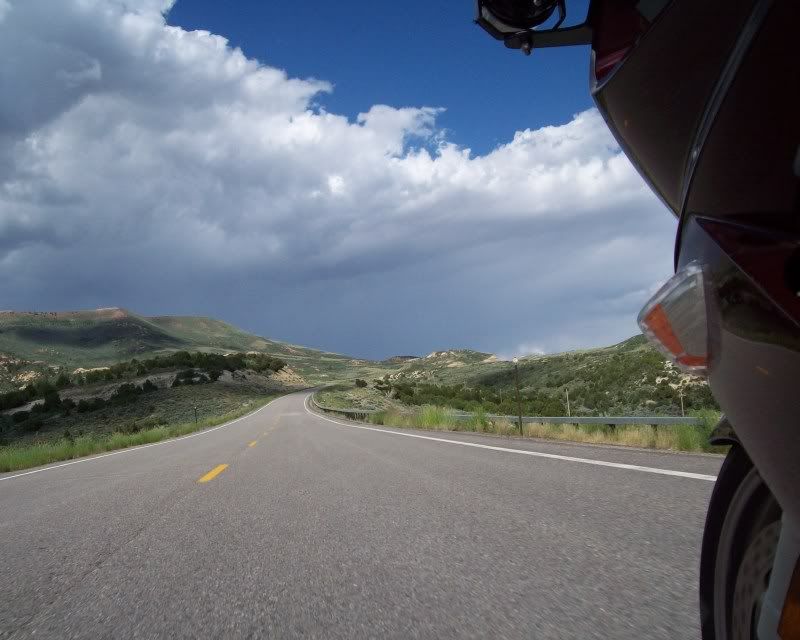 I finally reached my turn for the campground. I had stayed here last year and returned because I knew I could get a shower here which I was needing by now.
I managed to drop my brand new UV filter for my camera and knocked a big chip out of it. as luck would have it the damage was out of the cameras field of view.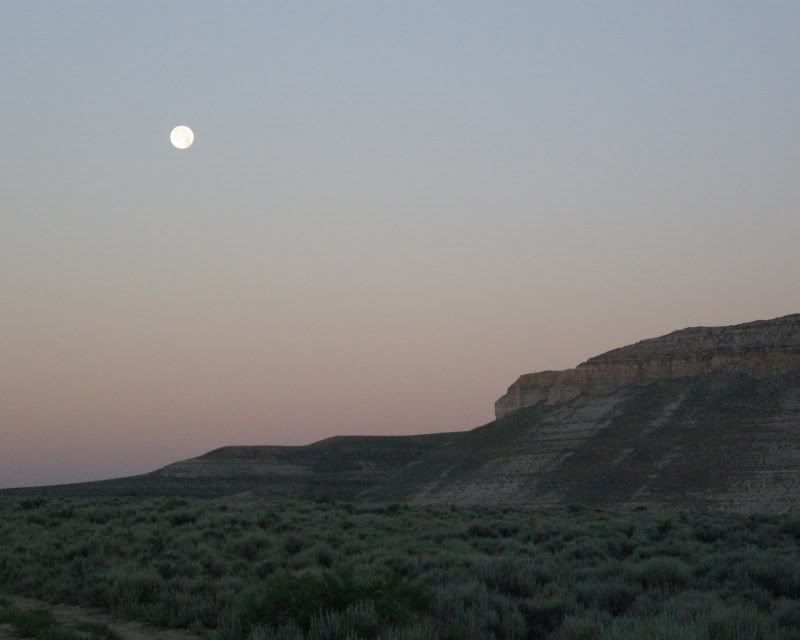 On the way from the campground back to 191 I almost had a close encounter with one of these. she looked as suprised as I did.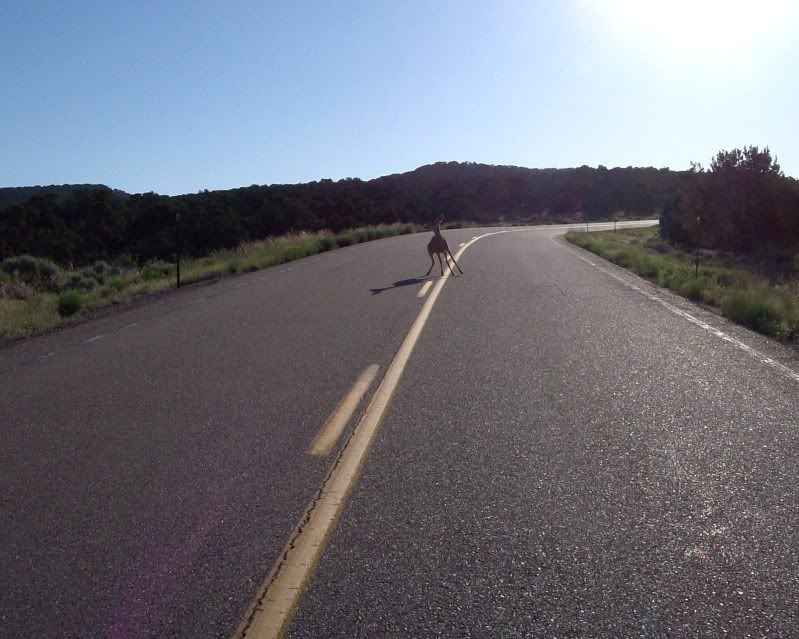 Heading north on 191 to Jackson WY it was quite chilly this morning in the high desert. I was rolling along at a spirited pace when I noticed a herd of wild horses running next to me.
Thatís when I really understood and felt total freedom and a huge smile spread across my face as I twisted my adrenalin pump.
Later I came up on a couple BMW riders that I had been playing tag with at gas stops all morning.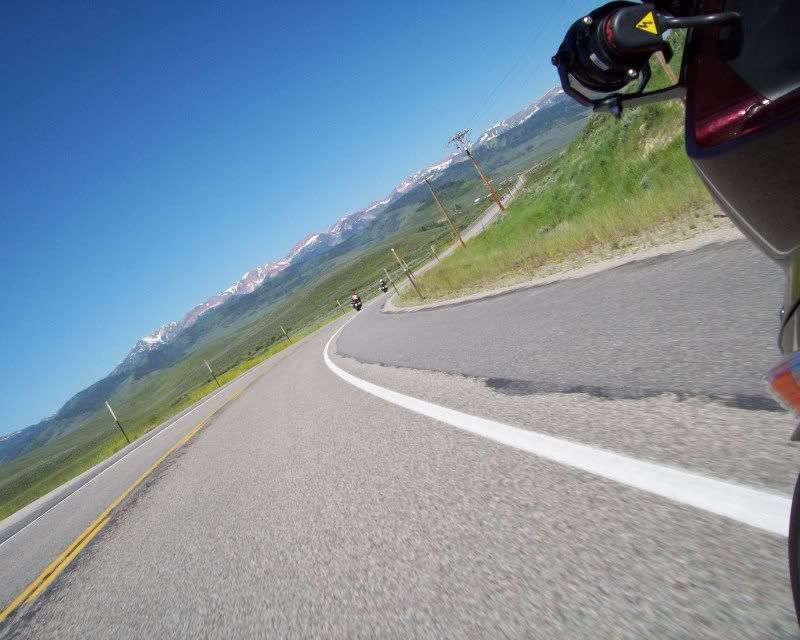 I decided to see how well those bimmers run and pulled up behind and stuck to them like glue, although at a very safe distance. They were helpless to shake me.
These guys were not waving at any other bikes, riding very aggressively, and taking silly chances. Then the guy in front of me while going into a downhill right hander totally screwed his entry and with oncoming traffic ďdanger closeĒ he completely crossed both lanes and was on the opposite shoulder before he finally got it pointed in the right direction. The driver coming the other way was freaking out. I decided then to let them go as I didnít want to be associated with them.
The Tetons are incredible. Go see them. The little blonde gal at the gate of the park was worth the drive if I saw nothing else. "I knew I should have worked for the parks service". sorry no pic I was in awe.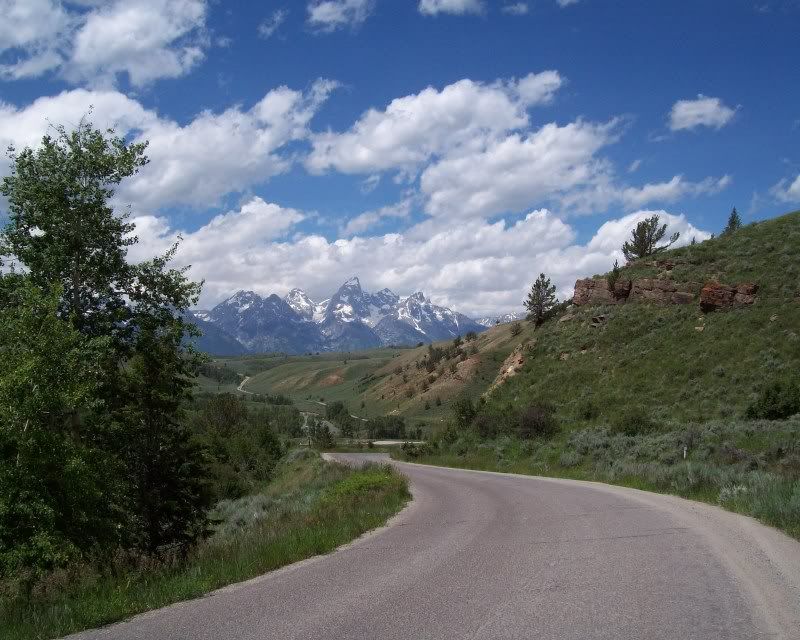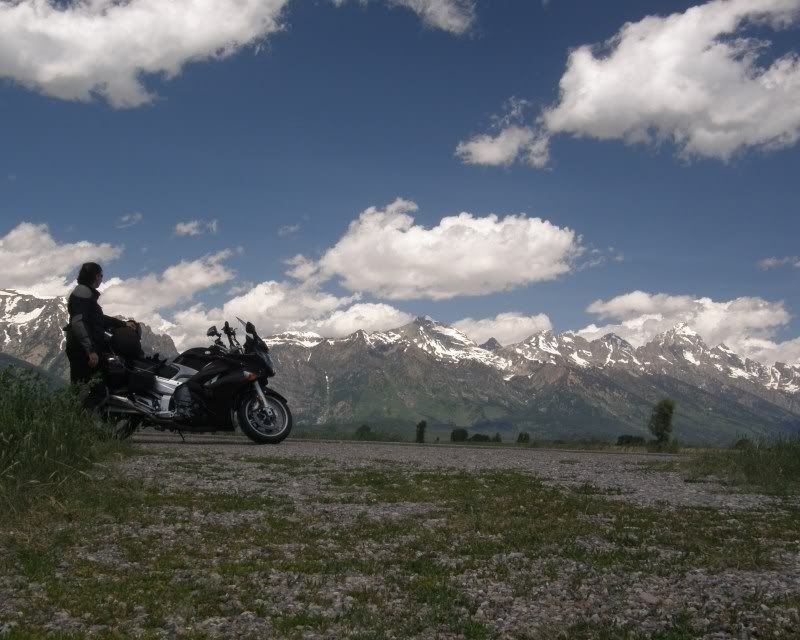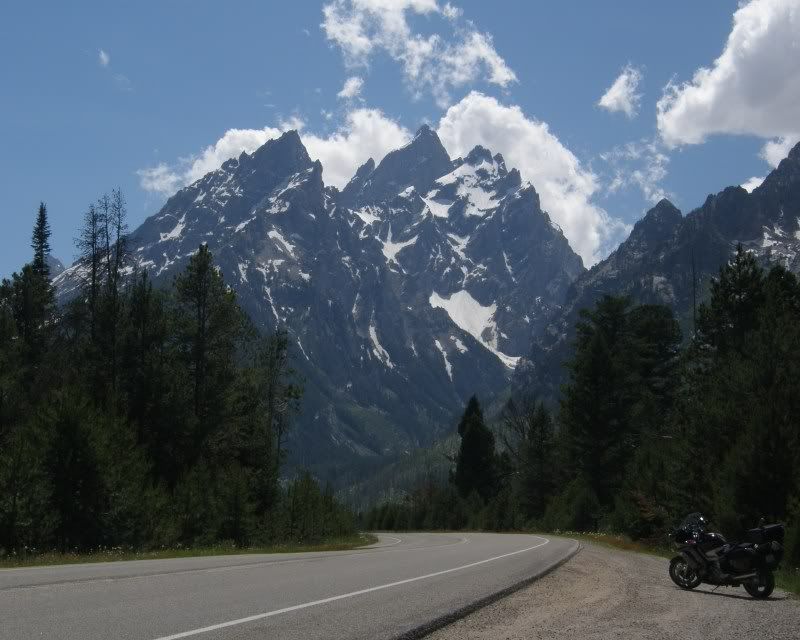 The mosquitoes were quite prolific at camp. I also managed to sling my year old digital camera across the camp site when it had gotten tangled on my stuff sac that was on the picnic table. Broke the LCD display to the point that it no longer works, luckily the view finder still works. Iím beginning to sense a trend here.
The next morning it was 28 degrees. My toothpaste was frozen and there was frost on the seat of the bike. Boy I sure didnít want to get out of that tent but the road was calling and I had a good days ride to get to the sawtooths in Idaho and a camp I hoped to find there.
The ride across Idaho was a brisk one with plenty of open space to let my bike stretch her legs.
Uh-oh I sense bad gas mileage in my immediate future.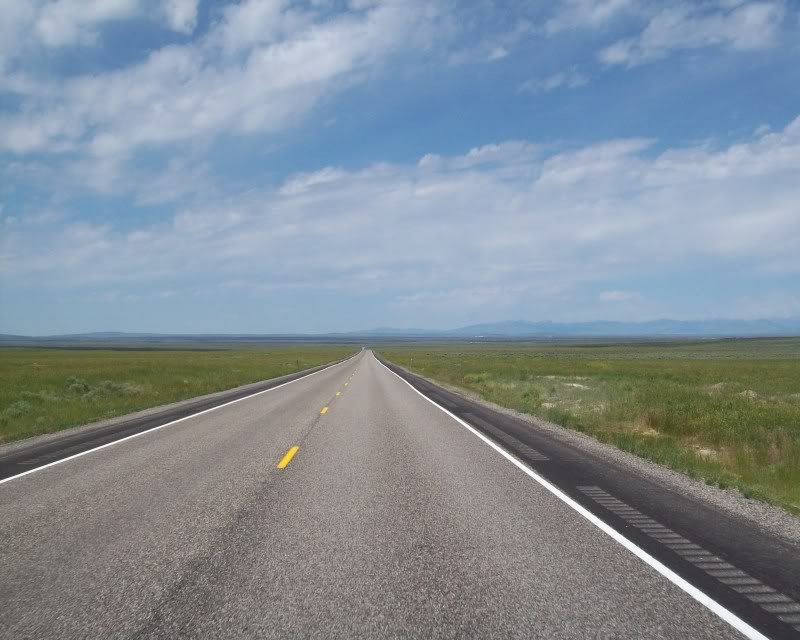 The ride up into the sawtooths on 75 was heavy with traffic and slow for the first 20 miles. The pedestrians using orange flags to cross in front of moving traffic just seems like a rear end collision waiting to happen. Very different.
From there on it was motorcycle bliss I will have to come back to this part of the country and spend more time.
Honey Im Home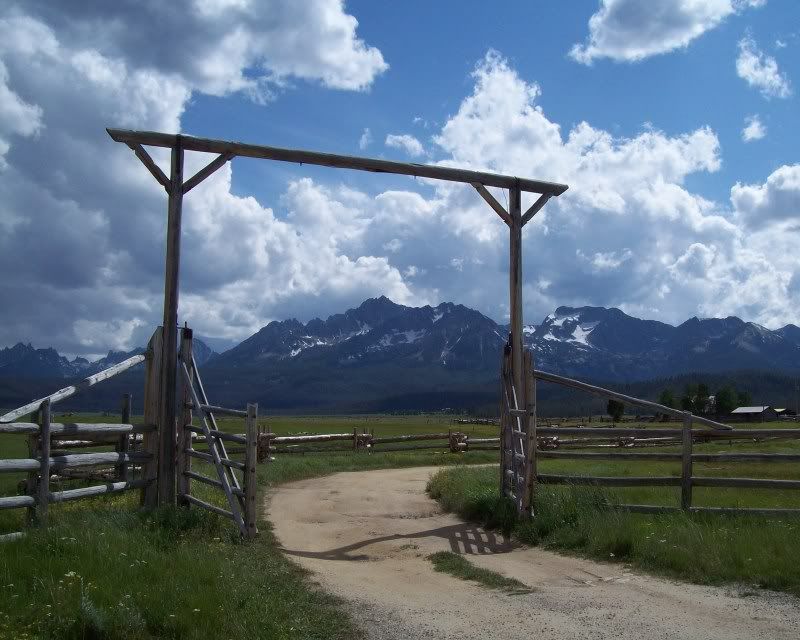 The Grandjean NFS camp is located at the end of a 7 mile dirt road that follows the Payette River into the mountains.
It was beautiful. The river is so blue.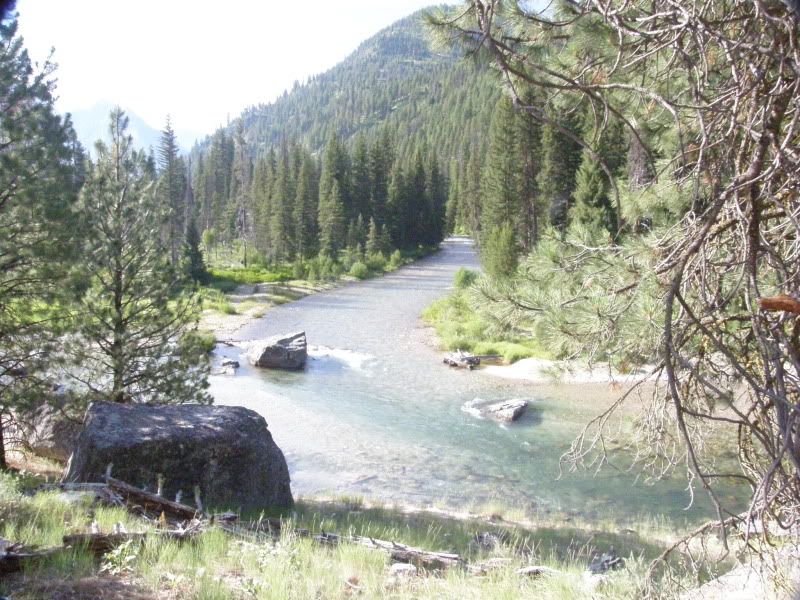 The camp was nice, again a shitter and running water. Had a nice stream running to meet the river right behind my camp.
There is a lodge just up the road that will let you buy a shower for 3 dollars which I gladly handed over.
There is also a hot spring Ĺ mile down the road on the banks of the Payette where you can move the rocks around to create your own custom soaking pool.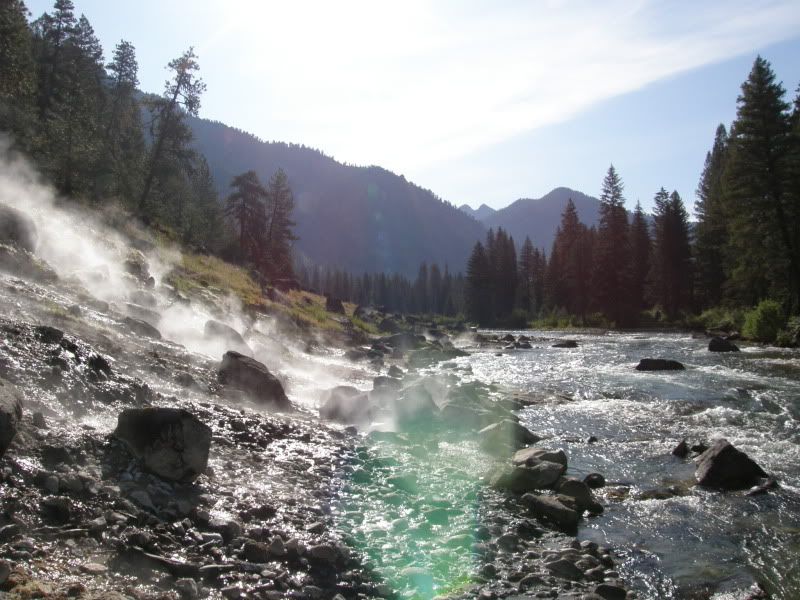 Very cool or uh hot or whatever all I know is Iím coming back. This is also where while taking pictures of the springs my brand new polarizing filter decided to detach itself from my camera and bounce off my toe into the Payette River. Well son of a bitch!
The ride to hells canyon was pretty good. ended up missing a gas stop before Lowman so insted of cutting over to 55 as planned I just kept going into Boise. well that detour and the traffic in the canyon section on 55 cost me several hours. I did pass the hospital where Tyler had been (she was in the Bay area by this time) she was in the back of my mind the whole trip. I also was very efficient at snapping off my mic plug in the zumo carrier while dismounting to check the atlas. Oh well I guess no more phone calls while rolling.
The camp at the Hells Canyon overlook was quiet and very rustic no table, no water, only a fire ring but the price was right FREE. There was a vault toilet over at the overlook parking lot probably a ľ mile walk. I had plenty of water with me and enjoyed the solitude although I did kick over my last beer. Well shit!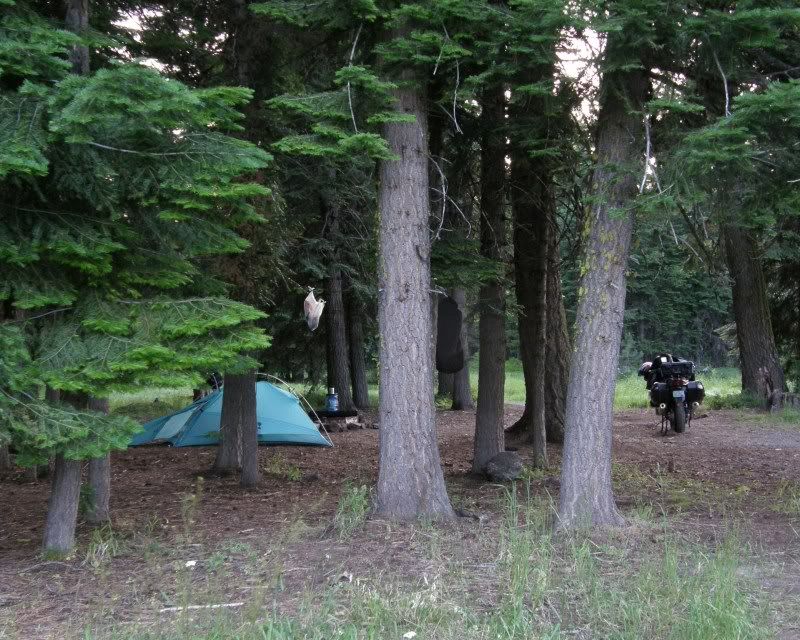 The ride the next morning down into Joseph and Enterprise was great; a mix of great pavement, good pavement, and some kinda scary shit but it was all good. Enterprise is a place I could live, very nice.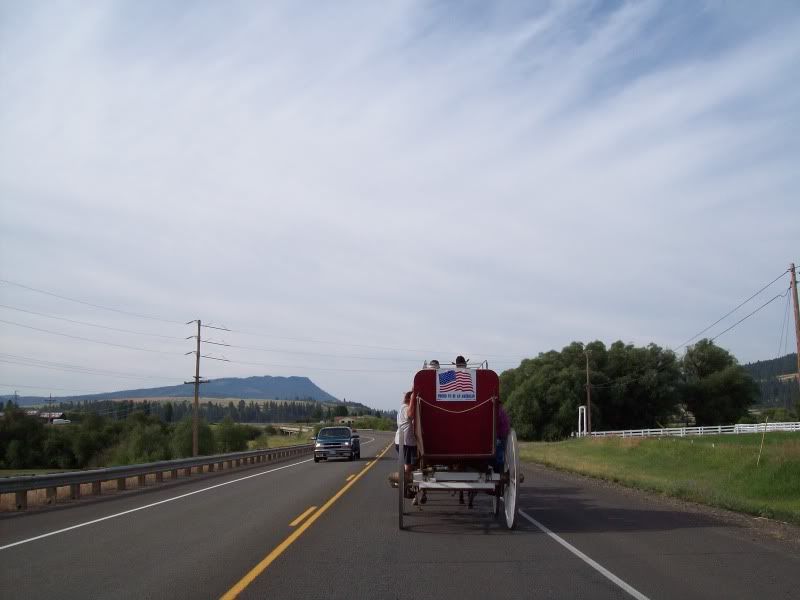 395 is one great road through Oregon, great riding through the wheat fields then into the mountains then down into canyons and finally ends with an all out run to Lakeview. The desert section was only 82 degrees and the old girl really covered some ground.
Whoa!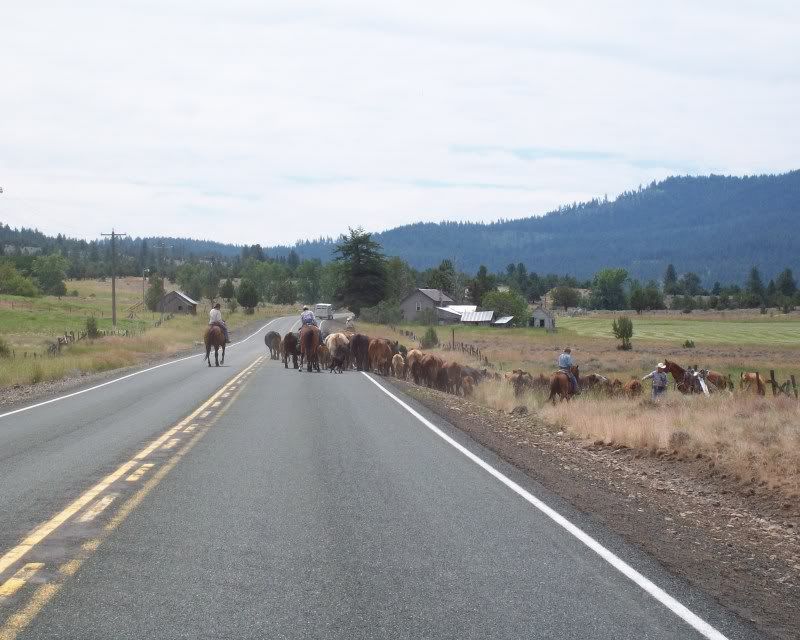 Looks like I finally made it to the "Golden State"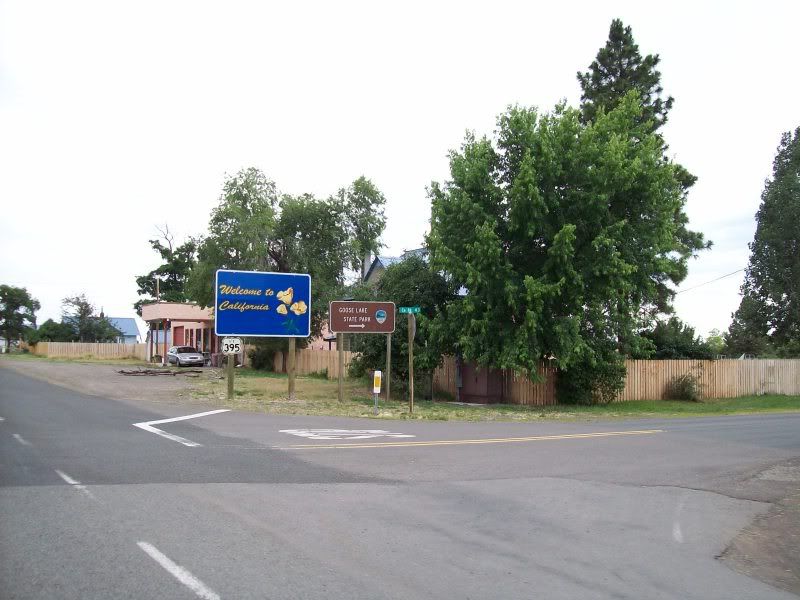 This being Saturday I knew there was little chance of finding a place to camp so after 711 miles I folded and just went to Redding and got a room at the Motel 6 that I stayed at last year.
Got up a little late but was only planning on going over to the lost coast. Took 299 to 3 to 36 OMFG! I canít believe they donít make you sign a disclaimer before they let you drive down 36 what a hoot. You better be on your game or you WILL die no question. Better suited for a motard than a 600+ lb bike with 290lbs of rider and gear. Still I loved it. While driving around the back roads of Humboldt County the smell of the local agriculture was obvious. Only in California.
The Lost Coast is a place if youíre open to it will get into your soul and forever change you. I snagged a camp site on the beach but sheltered from the perpetual winds. There were only a couple other people around and basically had the whole place to myself.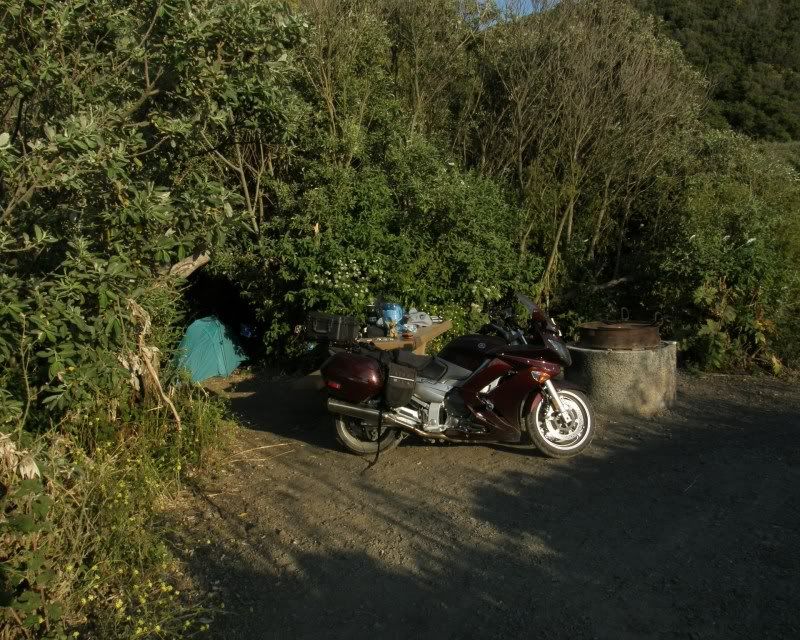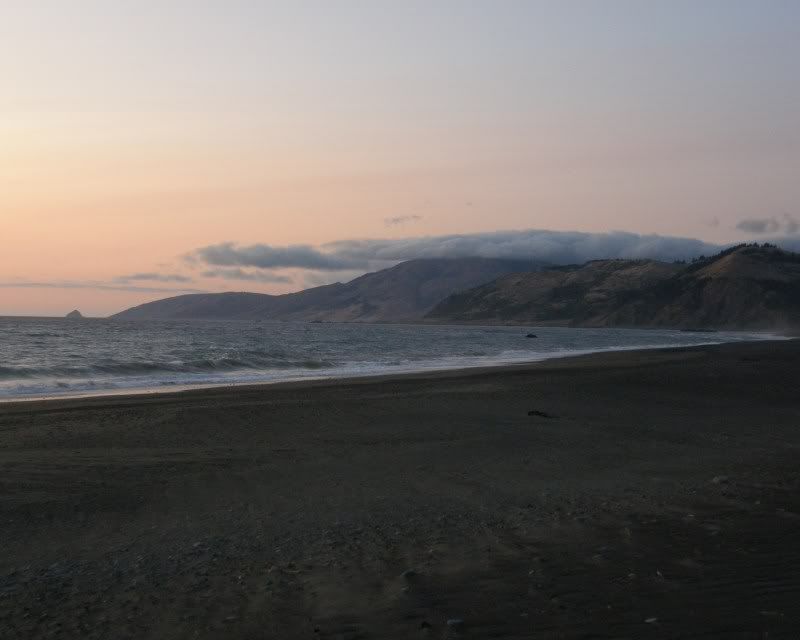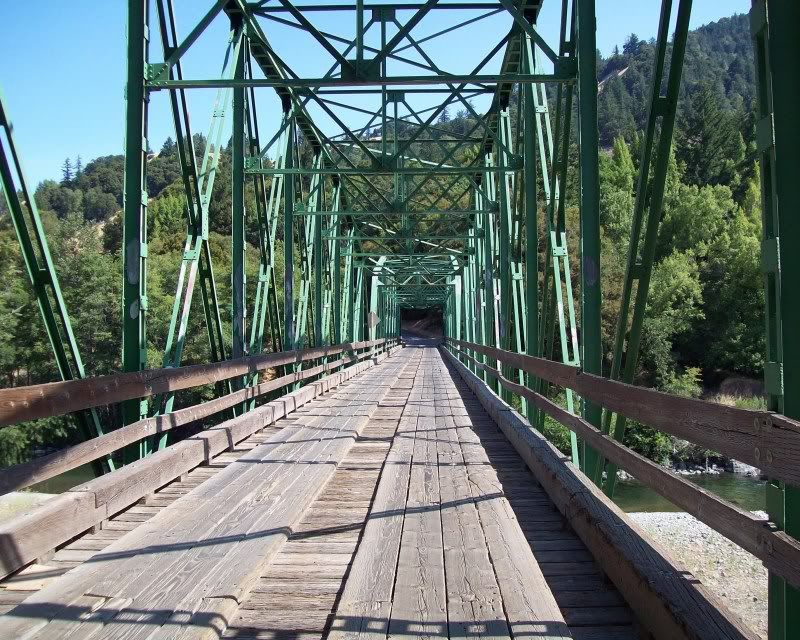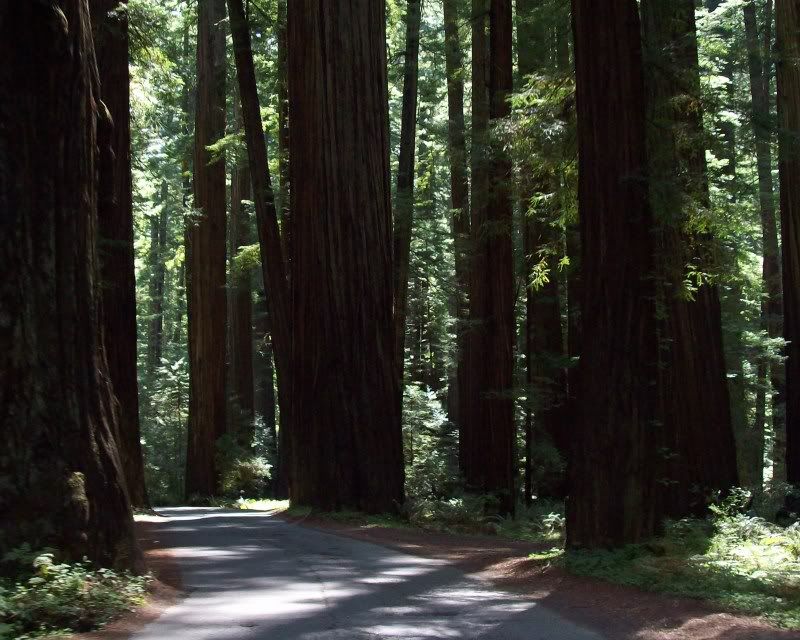 The next 8 days were spent visiting friends and family. I will spare you. I will pick this up later with the return trip. gotta go take care of some stuff