Sparky and I finally decided to go for it. We were going to the Stayin' Safe "Switzerland of Ohio" course and then do some touring with the wives afterwards. Our route went from Conroe (Houston), Texas to Mason (Cincinnati), Ohio which gave us about 1100 miles, just to be sure.
An early planning session on the back porch
In my driveway, ready to go
Starting at the Shell Station on 336 South
We started out at 4:00 AM from Conroe. Got Wifey to be the "start" witness. It rained off and on as we proceeded thru East Texas. We stopped for gas in Jacksonville, TX, and some local guy came up to us all excited about our bikes. He thought they looked like "spaceships" and thought the Feej was a BMW. 'Course we were in our best Power Ranger outfits so I guess it made sense. Pretty cool comments considering where we were.
Got gas and a break in Texarkana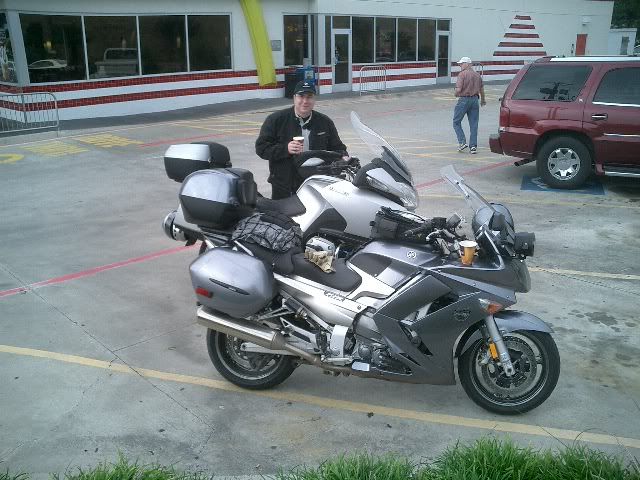 I never thought you could go thru this country for 700+ miles in any direction and find that there was absolutely nothing remarkable about the trip. Between Conroe and about Memphis we basically saw "stand of trees", "pasture with cows", and "freeway culture" over and over and over again. And truck after truck after truck. If this is a recession, I'd hate to drive this route during boom times.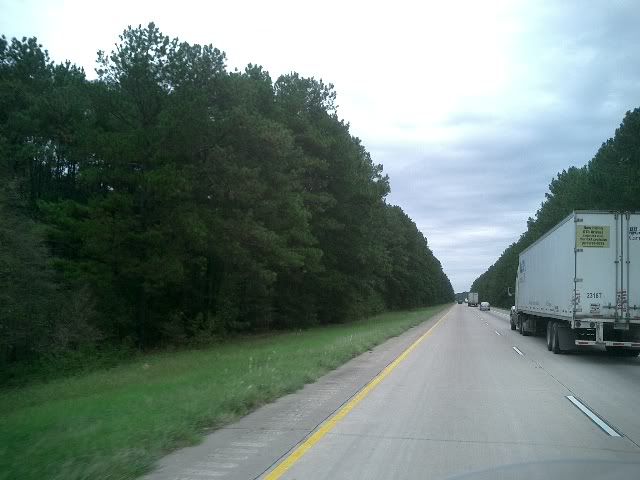 I think this was in Loanoke, AR, at a lunch stop. You can never get away from work….
Sometime around Nashville, it started raining. And then it got dark. And then we hit the construction. Cruising along thru driving rain and trying to determine exactly where the lanes were in the dark is no fun. We made it thru unscathed but worn out none the less. The scenery may have been better by that time as I spied some interesting rock formations on the road cuts, but, as it was getting dark, no joy here.
We went thru Cincinnati around midnight, the city was lit up and very pretty. Not much traffic. Sparky's plan was to ride a ways past the city so we didn't have to deal with traffic in the morning on the way to Cleveland. Also, he wanted to be sure we had traveled the required distance. He had mumbled something about "1100 miles or so" before we left. I was beat but still following him after we cleared town. And kept going. And going. And going…… We must have passed two or three Hampton Inn's that were probably clean and dry with warm beds but nooooo, we had to get to the right one. I was so tired at that point I even began to think that I had somehow lost Sparky in downtown Cincinnati and was actually following somebody else. It occurred to me Sparky may already be in bed and asleep in one of the Hampton Inn's we had passed. So I closed the gap and studied the bike in front of me. OK, it's him, I'm simply tired.
At about 1104 miles on the Garmin, I'd about had it. Just as I was accelerating to pull up next to him and give him shit, he began to wave that the next exit was "the one". Finally! He later told me he guessed I'd had enough and was lucky that we had made it to the exit before I began to loose it……
Finished at the Shell Station in Mason, got the night clerk to witness the forms. A couple of issues with the credit card reader but, in the end, got the "must have" final receipt. 20:31 hours from start to finish. We had planned on about 17 hours at 60MPH but I guess the rain, construction, and a couple of very necessary breaks extended the duration somewhat.
My GPS
Sparky's GPS
We figured out the next day we could have made a BBG 1500 without too much trouble. A good night's sleep and we were on our way to pick up the wives in Cleveland. Had we made a slight detour, we could have finished the next day with 400 more miles within the time allotted. Oh well, next time we'll do a little better planning.
All in all, not too bad a run. If (actually, when) we do a BBG, we'll probably head West instead of repeat the incredibly boring run that we had just done. Even the stark wastelands of West Texas are more interesting than the cow pasture, trees, freeway culture of I-45, I-30, and I-40.
I really have to hand it to the IBR guys for keeping their shit together for the whole rally. It's really easy to make bonehead mistakes on these long runs. During our one of our rest stops, we were talking about how some of the guys in the IBR made simple mistakes like forgetting some bonii in their rooms before scoring, loosing their towels, or loosing receipts. We figured, well that was pretty dumb, I'd never do it, but I guess it happens after 11,000 miles. So we hop back on the bikes and, sure enough, after a few miles I look down and the right pocket of my 'Stitch is open and my wallet is (barely) inside! Whoops! And only 700 miles into it. What do you feel like after 10,000? Also, you apparently don't have to be Mr. Fitness Guy to complete this kind of run (as evidenced by some of the more "robust" IBR finishers). It seems to be much more a matter of concentration, focus, and perseverance.
Yes, once you've completed your first SS1k, the country is that much smaller. And indeed, we now have "The Bug". We're already planning our first BBG and a couple of trips to the West Coast.
We've submitted our paperwork to the IBA, just have to wait for the verification now.