Well, I just completed a BB1500 from Conroe, TX to Baker CA. Still have to send in my paperwork but I think I'll qualify.
The e-mail came in from my friend Jim, a winter time Cabin trip on December 5th in the Mojave! Woo hoo!! (these are old friends from my college days). So how do I get there? Fly? I hate flying, 900,000 lifetime miles is enough. Drive? Not in my Tacoma, I like my fillings where they are, thank you! Well then, let's ride out!
I've always considered myself a bit of a Walter Mitty type when it comes to the hard core IBA/LDR stuff; I've not really considered myself in the "world's toughest riders" category. I do have all the worn out gear (16 year old 'Stitch, hammered BMW boots, etc.), and an LDR farkled out bike with all the electronic do-dad's and lights so at least I look the part. And I have done some pretty tough rides at times in the past. Well, I believe this particular ride finally qualified me for the "toughest riders" part.
Route planning was a real exercise for such a simple run. I originally had planned to go thru central Texas then west by way of Abilene, Hobbs, and Roswell, and then pick up I-40 at Holbrook and on to Baker with some adjustments for distance. I sent a note to FJR Remington Rider about the routing because he did a BB1500 around this time last year (January, I think). He gave me a number of things to consider such as remoteness of the roads I was planning on, critters, cold, etc (thanks RR!). I ended up deciding on the I-10 slab run (rev. 6 of the planning) as this route made the most sense safety and temperature wise. Wifey was visibly relieved too.
Planned route
Two things about riding a BB1500 this time of year,
Cold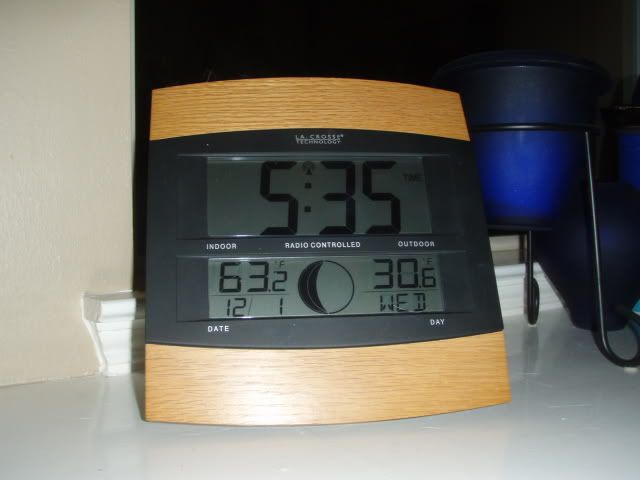 And dark
Two nights before departure and I'm running around the house all panicky about getting everything ready. I ended up doing exactly one thing at a time and completing the task so as not to fall prey to Age Activated Attention Deficit Disorder
AADD
and not get anything done. The night before departure and everything's ready and I'm actually feeling pretty relaxed. Weather report is for 30 F in the morning so I plan to delay my departure until 6:00 AM instead of 4:00 AM so as not to have to ride in the cold so much. Famous last words…..
30 degrees on departure, a sign of things to come. No issues with Houston traffic, and a breeze thru San Antonio.
Crusing thru West Texas
Some gas stop in the middle of nowhere
This guy was following me all day
80 MPH posted speed west of Kerrville, but a sustained 80+ MPH really hurts my gas mileage. I had planned out my gas stops for about 190-200 miles but that went right in the bin after San Antonio. My gas mileage dropped to about 35 MPG or less. A total of 11 gas stops, including the last one in Baker for check in.
Arrive in El Paso just in time for the evening rush hour. Struggled thru that for a while then a blast up the hill to Las Cruces for the night.
Up at 2:45 AM local time without my alarm clock going off and back on the road. The temperature was 28 in Las Cruces when I left and dipped to between 19F and 24F for the run between Las Cruces and Deming. I finally gave up in Deming and stopped at a Denny's ("Always Open" what a wonderful sign to see!) to warm up and scarf down some scrambled eggs and bacon. Once I had thawed out some ("warmed up" is way too optimistic) I headed back out towards AZ. Made it to San Simon I think at which point I couldn't feel my toes, they were more like little stones at the tip of my boots. I found a quick stop/chicken place where the food part wasn't open yet but the guy let me sit there and thaw out my toes. I got to watch an old movie for a while that stared Fred Astaire and Frank Morgan (The Wizard of Oz) do a bunch of dance numbers (Broadway Melody of 1940?). Weird…..
Once thawed out, back on I-10 heading to Tucson. It's amazing what a sunrise will do to lift your spirits. The sun started coming up and even though the temps were still down around 20F, I felt pretty good
Spotted a black FJR heading east somewhere between Benson and Wilcox. One of us?
Breezed thru Phoenix and continued on I-10 to turn off on 95.
U.S. 95. Interesting variety of road surfaces
Before
During
After
I was pressing my time at this point but Shelia was convinced I'd make Baker on time.
Uh oh, what's this?
Shit! A miles long back up for road construction. This is CA right? Can I filter around all these guys? Sigh, just sit tight for the duration
Into Baker with one hour to spare.
Got my finish witness from the lady that works at the Country Store and then treated myself to an early dinner at the Bun Boy. Job done!!
My moving average was actually closer to 44 MPH but I had to turn the GPS off for the night when I stayed in Las Cruces.
Baker Bun Boy
Bun Boy food porn to celebrate the end of the trip and a chance to eat real food for the first time in a couple of days (yum!)
Epilog to follow.....