It all began months ago when the CFR date was announced. Hopewell rocks was one thing I had always wanted to see and it looked like this would be the perfect opportunity. My plans came together once I managed to procure a riding buddy who would be interested in coming along. I was really excited about it......not just the trip itself, and the sights, but meeting a few more fine FJR Forum folks
Yes, my wife thought I was nuts going that far for one day......well, not really a full day but close enough
Monday morning at 6 we headed out. The weather was perfect. We hit a patch of wet roads early in the morning through Ellicottville, but it was clear sailing after that.
Oh..........forgot to mention that we were riding an SS1000 on the way out. Glenn had never pulled one off, and we thought this would be a perfect opportunity...........in hindsight.....hmmmm.
Things were going really well......so well that I thought I would check out the FJRForum.....haha
(I brought the page up while I was stopped....and no I wasn't trying to surf while riding)
My phone was there to run the instamapper tracking program so my wife (and Glenn's GF) could follow along.
We were making great time, and keeping on schedule. At our stop in the Blanford rest area, we figured we would be arriving just before midnight in Freddy beach........I had no idea what I was in for less than one hour later........
We were cruising along the I-90 until we reached this point
here
That was when my CFR dreams were dashed. About a quarter mile prior to this location construction had narrowed the lanes down to two. Vehicles were still cruising along at 65 mph, but I had plenty of space in front of me (I was in the left part of the slow lane). On the other side of the traffic cones I noticed a police cruiser and a road crew (they were moving slowly placing cones).
Then it happened.......I noticed a vehicle to the left of me (middle lane) make a sudden swerve, and the one behind it looked like it hit a bump (both were about 50" in front of me). Turns out that this "bump" the second vehicle hit was an 8' piece (Glenn thought it was more like 10' as it covered almost a lane and a half) of 4X4 lumber. When the second vehicle hit it, it spun the piece directly into my path. There it was perpendicular to me, gently bouncing along the interstate. I don't think I had time to think of what to do. I knew it was too long to steer around (to the right), and I couldn't swerve left (vehicle right beside me who couldn't move themselves because of the construction). My only option (out of sheer reflex) was to go over it. I did the best I could to give it a bit of gas and stand up on the pegs, and it worked....I was over it. Thankfully Glenn was in the right side of the slow lane behind me and had time to swerve around it. Later Glenn would tell me I had the bike airborne by over a foot. He thinks the CT on the back saved my landing........not so sure.
Anyways, my initial shock quickly turned to terror as I realize my front tire was now flat, and I was doing almost 70mph. Thankfully it was a fairly straight piece of road because the thing just doesn't want to steer very well with a flat
Terror turned to horror when the bars started to shake rather violently.....WTF I thought!! I was amazed that a few cars actually honked at me....like I was holding them up as I tried feverishly to keep the bike upright yet bring it to a stop using my rear brake only (didn't want to touch the front for fear of washing it out). Seemed like a good idea at the time.
This is what I was left with.....
Within a minute a state trooper pulled over and the first thing he said was "did you hit that piece of lumber?"
"Uhh, yeah" I said. "How did you know". I asked him how the F&%$ that thing ended up on the interstate and he just shrugged his shoulders, and mentioned a bike dealership behind us. I thought he would stay to provide us with some protection, but he said he had to go. So I watch him back up to the interstate authority
access road
400' behind us (which we would later use) and stop. Then he pulls out to nab a speeder. I thought seriously??? You would rather nail a speeder than make sure a citizen safely moved himself off the interstate??? Anyways, I tried to jam a sticky plug between the rim and the tire to see if I could get it to hold some air......didn't work, but I didn't feel safe on the highway, so I rode the bike (with a flat) over to the dealer who will remain nameless (Auburn Mass. on rte 20). Went inside to see about a new rim. Well as you can guess they had none, and told me there were none in the U.S and it would take 5 days from Japan. I noticed a 2010 FJR on the showroom floor and suggested they sell me that one, swap rotors, and I would be on my way. They could re-assemble the new rim when it arrived and install it back on their bike. "Nope" was the answer......wouldn't even entertain the idea. Thought I was crazy for just suggesting it. Well I guess one of the guys felt guilty and he comes outside to give me some numbers for a few bike yards in the area that might have a rim......gee thanks.
I posted up a "help" on the forum and within 5 minutes I get a call from Tyler! She asked me if I had the FJR assistance list (I didn't) so she looked up a few people who might be close by and e-mailed them to me. Huge props to Tyler!! Thank you for that!! you are the best!
Called the number closest (1/2 hour) no answer. No problems.....people have lives. I should have tried again later.
By this time it was close to 6 and I figured it would be best to find lodging. Rode over to the Comfort Inn and unpacked and tried to take stock of the situation. I called my SO to cancel my Silverwood reservation
and let her know what happened.....she thought I meant I hit a 4X4 vehicle that fell off a truck.....guess I should have been a little more clear.
Went for a few beers at the local "Outback" to wallow in my sorrow.
The next day I realized that even if I could find a rim, I had to be back by Wednesday night. So my best case scenario was to get a rim that morning.....mounted and repaired by the end of the day, and head home north after riding up Mt Washington. Alas.......it was not meant to be. Called a few (the maintenance kid at the Comfort Inn called a few also) dealers and other bike shops in the area...............no luck. Made the decision to rent a budget cube van and drive the bike home to repair later.....
Maintenance guy (Chris) even drove home to get his ramp to load the bike in. I gave him several bucks for his efforts. If he was the service guy at the aforementioned dealership I'm sure I would have a new silver rim on my bike. He was a great help!!
Here is the damage...............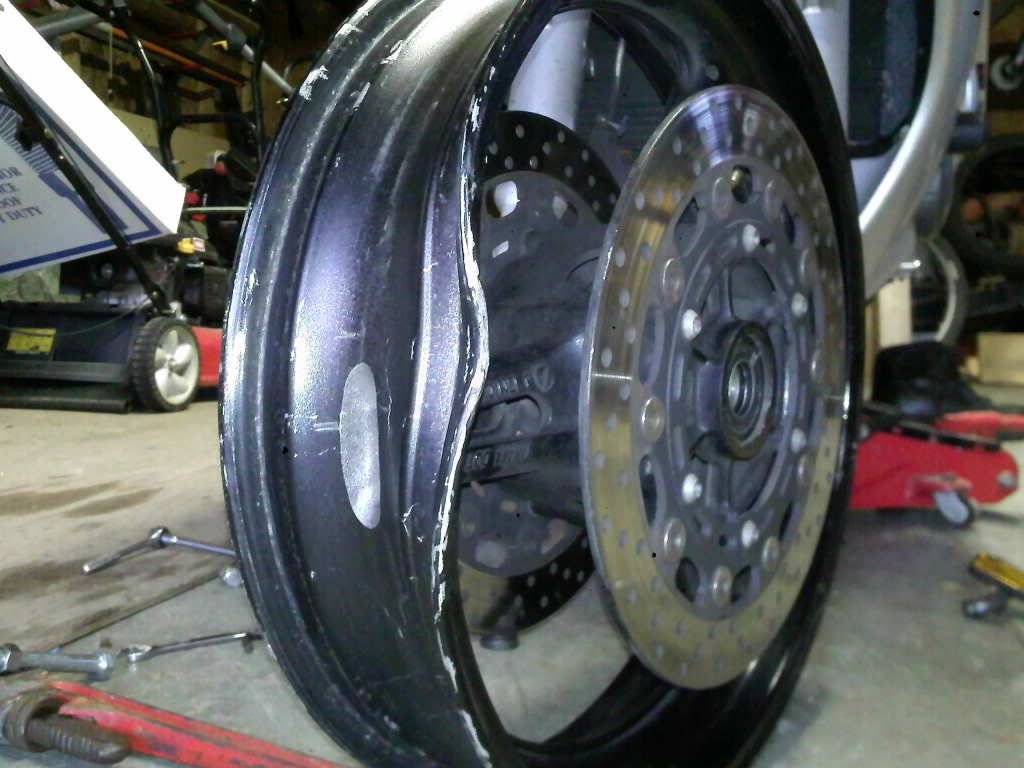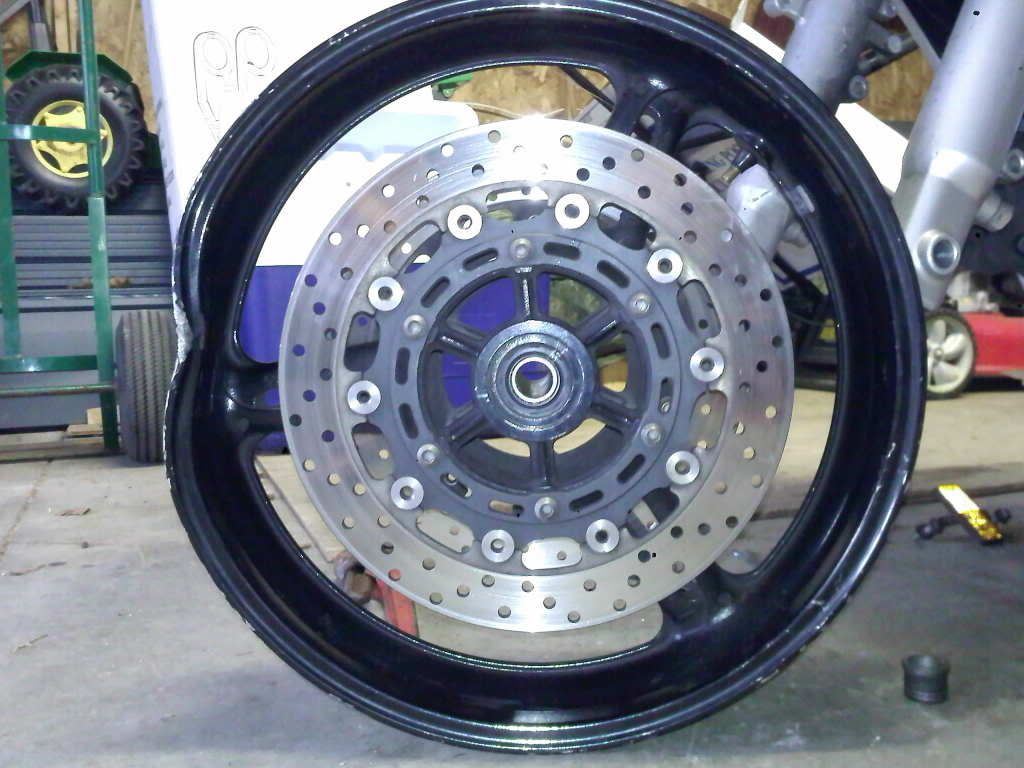 It's amazing what a block of wood can do at 70 mph!!!! Hey........it could have been worse right? Easier to fix the bike than fix me....I was lucky. Thanks again to Tyler, mdisher, and everyone else for their help!