Having never officially attended an FJR rally before, I wasn't sure what to expect, but I knew the NERDS event was going to be memorable.....
However, I was completely unprepared for what I was to witness.
I was standing outside at the Commodores Inn talking to a few fine FJR folks, while enjoying a frosty brew, when I heard rustling coming from one of the bikes. Not knowing what it was I decided to take a closer look......
this is what was making the "rustling" sound. A rather strange way to come out of your shell (so to speak), if you ask me.
Now I had read a great deal about Dolly and her travels across the country to various events but I had never actually seen her in person. She looked very soft and fluffy, and I thought "yeah, I can see why Bust likes her so much"......very cute and cuddly. Although, on this particularly tepid night, Dolly seemed "different". Having never met her before I couldn't quite put my finger on it. One of the other fellow revellers agreed.....and suggested Dolly looked like she was in love.........
"Could it be" I thought to myself?? A sheep in love??
In order to appreciate the true spirit of this story you might want to sing along to this particular
TUNE
Better yet, play the tune in the background as you read this story of love...............
Dolly made short work coming out of her confines and began to stretch her legs.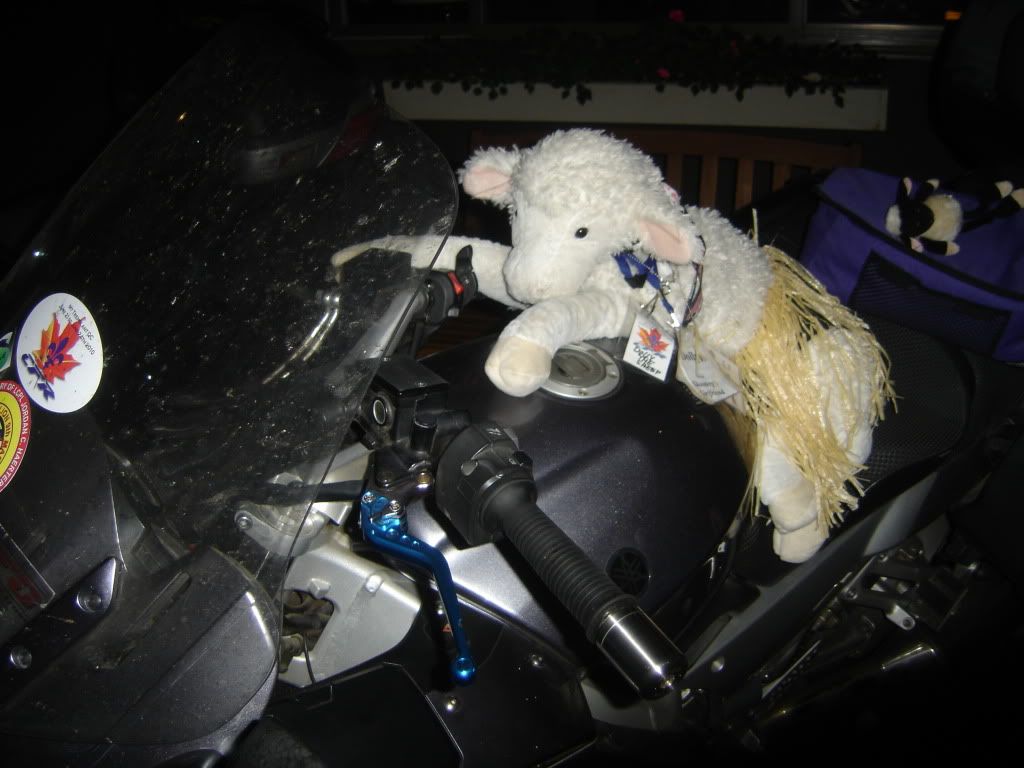 She seemed to take a particular liking to something on the bike..........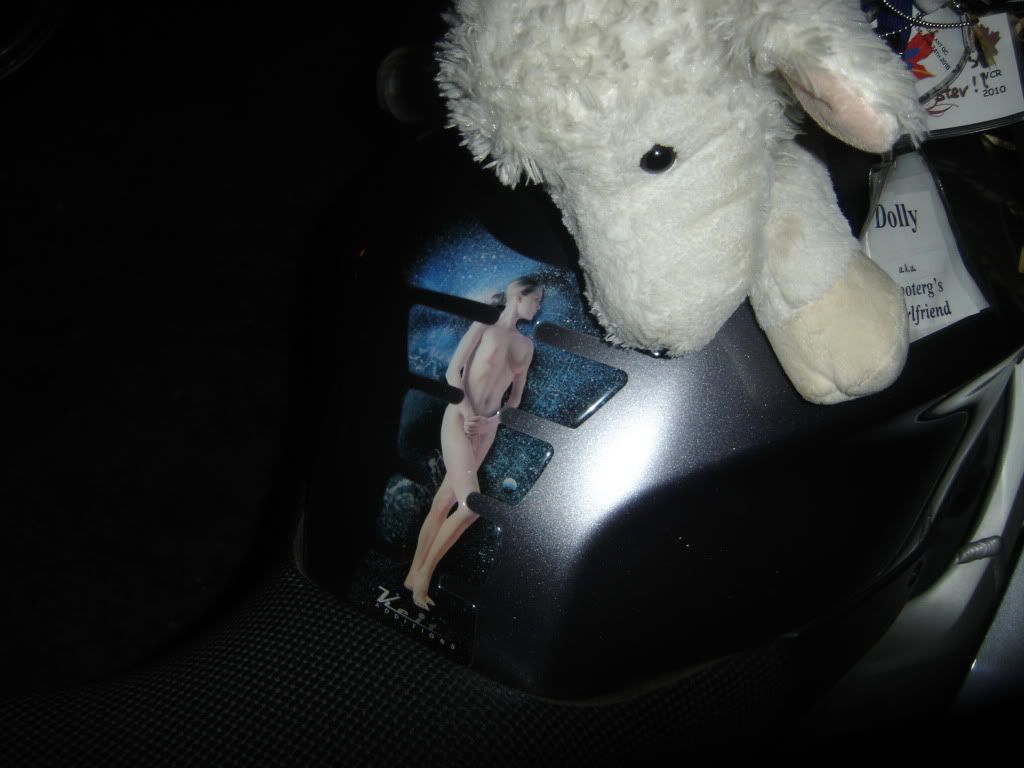 Then.....with the power of a mountain goat, she jumped from the bike into the arms of someone she clearly knew very well.
There was a fondness in her eyes that I thought was not possible coming from a sheep........but like I said, I just met her.
This didn't seem to bother Dolly as she made her way over to me so she could check out the "new guy". I was amazed at the strength Dolly showed!! It was all I could do to prevent her from climbing up my leg!! Although, after a moment or two, I realized she had no intention of crawling
up
my leg.
After a minute or two Dolly clearly grew tired of my leg (again, I didn't think sheep did that!), and began to make her way into the Inn like a moth to a flame. It was as if primal instinct, and years of inbreeding, were pulling her in a direction she herself could not know. To a destination locked deep within...........
As each minute past, Dolly's desire and agility grew stronger and stronger. She continued along the hallway to the elevator and stopped..........again, it was as if she was being directed by some unknown force............
Intrigued by this strange behaviour, I decided to follow Dolly on her quest.
Dolly then continued down the hall and pushed her way into one of the rooms with the confidence of a mountain goat in the Andes.....
It was what I witnessed at that point that will forever burn in my memory. Dolly had come "home" to her best friend (with benefits).
Due to the graphic nature of the events that night, I have deleted the most explicit photos
.
I'm home!!!
I'm spent!
Time to re-hydrate!!
The next NERDS event will never be the same for me (or Dolly for that matter)......but I'll still be there!!!