Our meetup with Alex and? I am so sorry, I forget her name!




Alex's (Patch308) lovely g/f is Hannah. She is NOT his daughter!


SacMikes bike prepped for diagnosis:




The interim diagnosis was not good. It goes into the shop tomorrow and we'll see what's up. More on that below.


My SW-FOG extended to 18 days and 3,800 miles, ending on Tuesday this week. It would have ended a little sooner, and had more miles, but for the problems with the bike. It started to run rough in Utah, especially at low rpm's, but it was the Friday before Labor Day weekend and I was a long way from any dependable service; I decided to continue toward Taos, since it was smooth enough at 3 or 4 K and above. It's amazing, though, how much of the joy of riding an FJR is connected to that amazing power you feel when you kick it up to pass on a hill or something at 70 mph or so. That part was sadly missing, plus the concern about what the matter was behind the rough running.
Well, I did continue, and made it to Taos. Did a little riding there too, but after the second day, Mike--Hycle--offered to take a look under the tank. Mike and FJRob are both mechanics, and they got into it far enough to confirm I was working with just three cylinders, and came up with a few possible explanations, none good. Unfortunately, since I didn't much understand what they were telling me, I can't pass it along to the forum right now. The bottom line was a recommendation to get it into a shop as quick as possible, preferably by trailer. Ugh.
Taos doesn't offer much in the way of Yamaha dealerships or even service that I could find, so I finally decided to book for Albuquerque that day, about 150 miles. We picked a dealership there off the internet and they agreed to check it out that day. I left the Kachina Lodge about noon Thursday, having paid for all three nights (including Thursday night), and to their great credit, when asked they agreed to credit the full amount of the Thursday night lodging back onto my card! "Things like this happen," said the darling girl at the desk.
Made it to Albuquerque and the first dealership, where they now said they "might be able to look at it tomorrow." Since AJ--Hot Rod Zilla--had previously offered his hospitality overnight on my way home from Oklahoma City, where I'd planned to ride after Taos for a family visit, I called him to get his thoughts on the problem. He told me he'd have sent me to the other local Yamaha place, Bobby J's, that he uses, and also that he'd come and get me and put me up for the night. I'd decided to leave the bike and make the OKC trip and back to Albuquerque by plane, but that would be in the morning.
I excused myself from dealer no. 1 and rode to Bobby J's. As I understand what they did, they did further diagnosis, finding zero clearance in one of the valves and the others very tight. They did a valve adjustment and told me to get it to my shop when I got home. It should make it, I was told, but I shouldn't go out of a pretty direct line back to Sacramento. I more or less did that, but did get in a little more sightseeing of the gorgeous Southwest on the way. Amazingly, both the fierce desert heat and the mountain thunderstorms I'd feared so much held off for the entire trip. At least till I began the descent into the cauldron of the Sacramento Valley the last 60 or 70 miles.
Well, the bike goes into Roseville Yamaha in the morning, and I'm holding my breath. I guess I didn't burn up the valves, or whatever the worst-case scenario could have been, and I did get home. I'll post an addendum to this when I see the total damage. I definitely want to express my gratitude to AJ and his beautiful wife and three daughters for their gracious hospitality (and the use of the girls' pretty pink bedroom on both ends of the OKC part of this trip), and to Hycle and FJRob for digging into the guts of the bike Thursday morning (and Mike tearing up his finger doing it) and warning me off continuing my planned extended ride to Oklahoma, where I'd planned to take it to the local shop the following Monday. I think it could have gone much worse. I'll let you know.
And I still got to have a great trip through the Southwestern states. Some of the shots:
This is Skyline Drive above Canon City, CO. It follows the top of a long ridge above the town, no wider at the top than this little driveway-sized road. There's a great YouTube vid of it (not mine)
here
.
Teluride, CO. One road in, same road out (which I only learned after doing the "ride IN" part.) Georgous, though.
Arches National Park, and after seeing a good bunch of them, now I think Arches is the most amazing!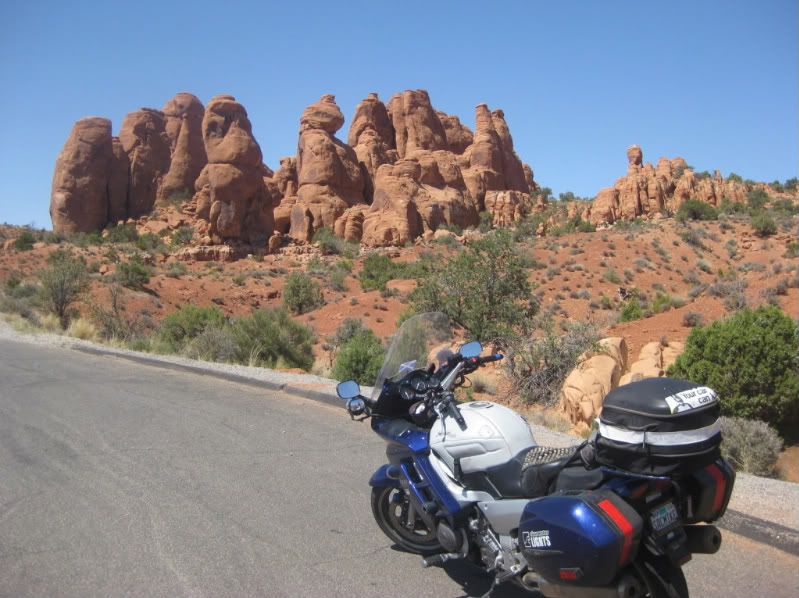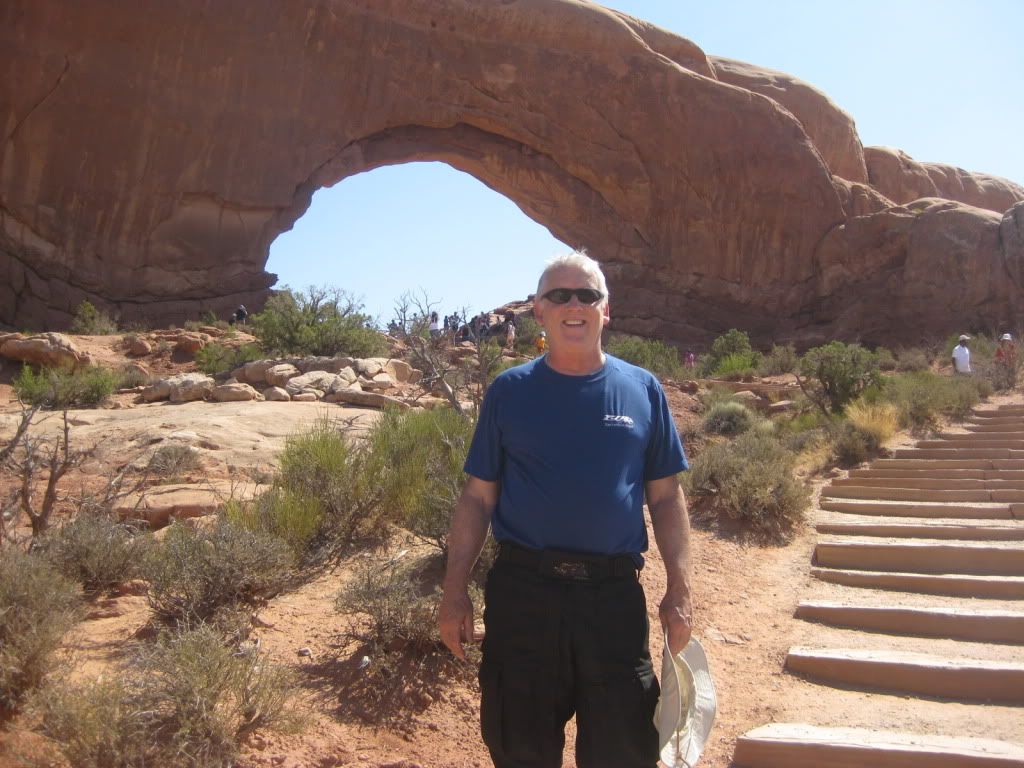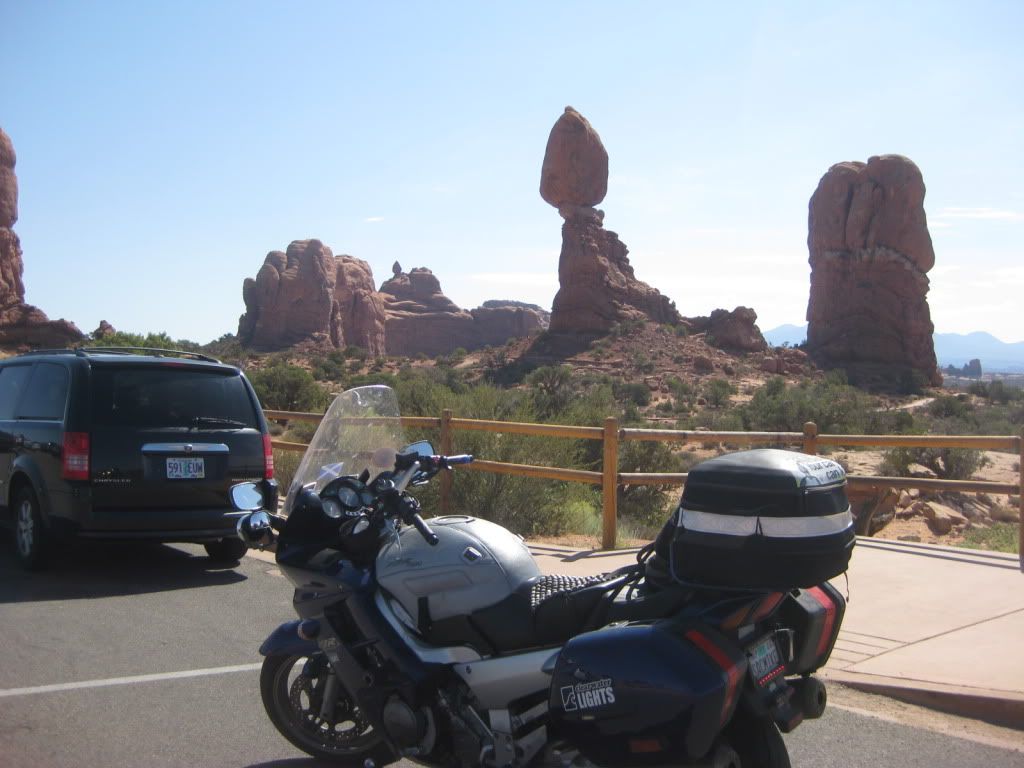 Leaving Albuquerque, AJ escorted me to the National Museum of Nuclear Science and History. I was interested especially because I'd worked on "nukes" back in my Air Force days, including the model below. These were the two recovered "B-28" bombs dropped over the Med (and on Spain) after a mid-air collision with a refueling tanker. After that, no more nuclear bombs flew. The one on the left went into the drink, the other landed in soft mud and didn't explode. Two others did, but only the explosives went off. No nuclear yield (but some radioactive leakage--we hauled away 1,400 tons of dirt from the area.) I dunno, I thought it was interesting. Um, these bombs are empty now, by the way.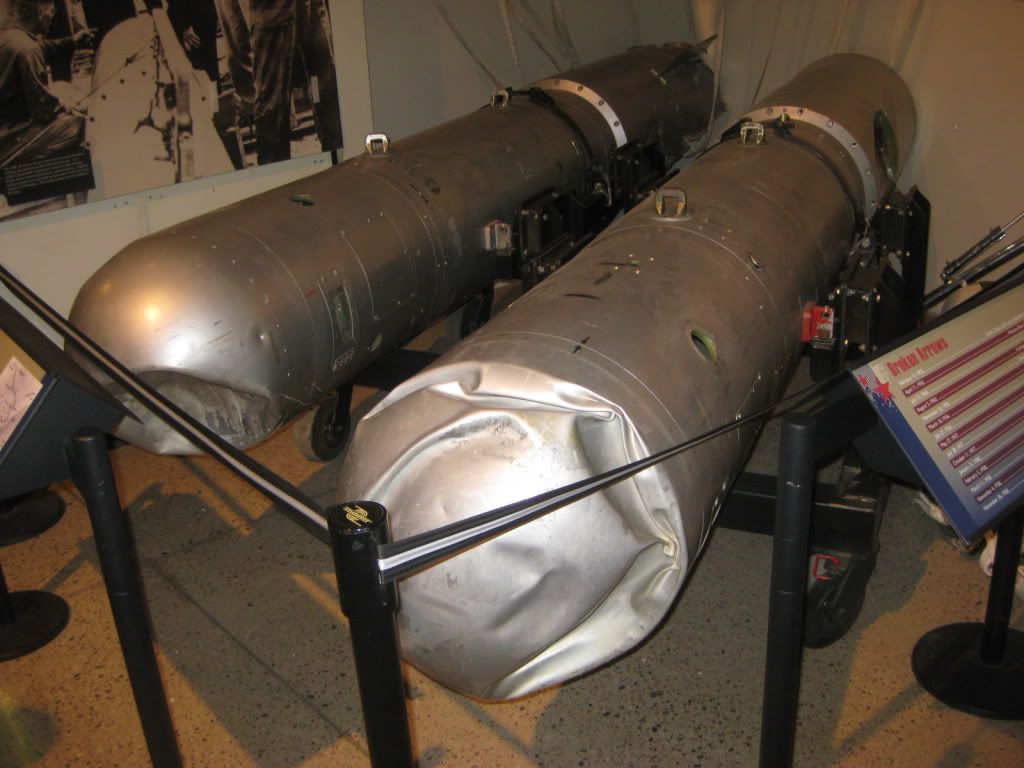 The '50's. What a wierd decade. (Among the paintings on display were several of the "town" they'd built to test the destructive effects of the first "Trinity" bomb test near Alamogordo, NM. They dressed mannequins up, sitting around tables, drinking coffee. Somebody had a sense of humor; the women wore hats, white gloves and pearls, just like Donna Reed. They called the place "Doomtown.")
Had to see this place, just a few mile detour. One foot, four states.
And one more amazing place. You've seen plenty of pictures of Bryce Canyon, you don't need to see mine. But I really liked this sunset shot of my campsite. Guess it was about 8,500 feet. Cold and crystal clear. Perfect camping weather.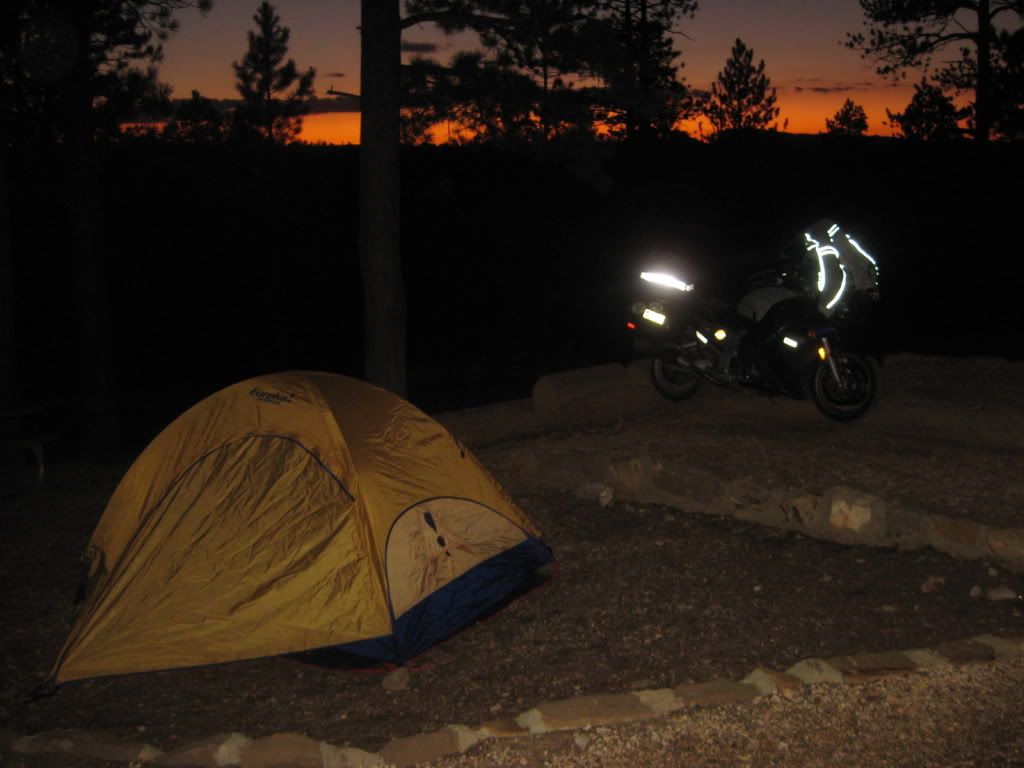 Thanks for looking.