Another EOM is in the books. What a whirlwind 6 days.
Sept 20th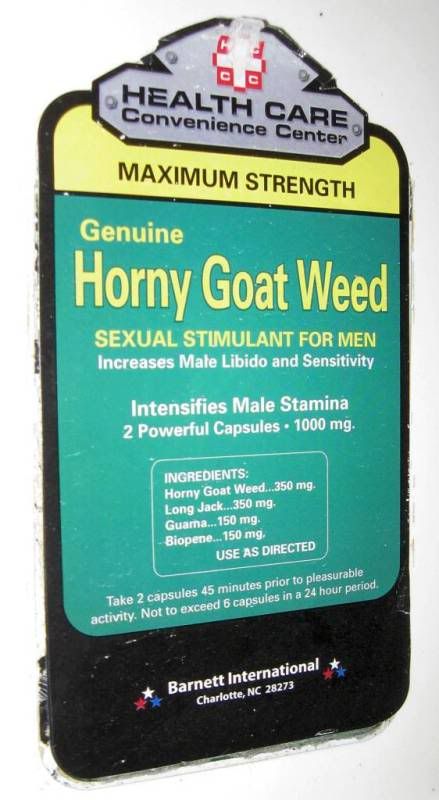 Picked up some of this for Bust.
Packed the bike the night before and rode directly to Moosehead's place from work. Made good time, took about 5hrs flat. I ended up having a cop running bird dog for me >
After chatting for a bit we hopped into the hot tub while drinking beer. I've got to get one of these, I was ready for bed after that.
Sept 21st
Ryan and Peter showed up around 10pm. They both ride 650 Ninja's, but Peters is rashed up one side. It's his first bike and he bought it like that. Can't fool me. I figure he loaned it to Moosehead. We made it through customs with no wait time after picking up some beverages (hey, Corbin is a dry county) at the duty free. Before long New York and Pennsylvania were dispatched and we took our time running down the Ohio river. We crossed in and out of West Virgina and Ohio so many times I never seemed to know which state I was in. Around 7 or so we found ourselves in Wheeling WV looking for a hotel. Nope. None to be found, so I suggested we ride to Clarington as it looks like a good size town. At least, on the GPS. That bitch lies. So we ran further down river to Morganville WV. No hotels there either. I called up all the hotels on the GPS and proceeded to start calling. Every hotel was booked with construction workers. I guess cleaning up the damage from Irene. After about 15 calls on my cell phone ($$$) we finally got two rooms booked in Marietta Ohio. The GPS said it was 31 miles away. By this time it was full dark.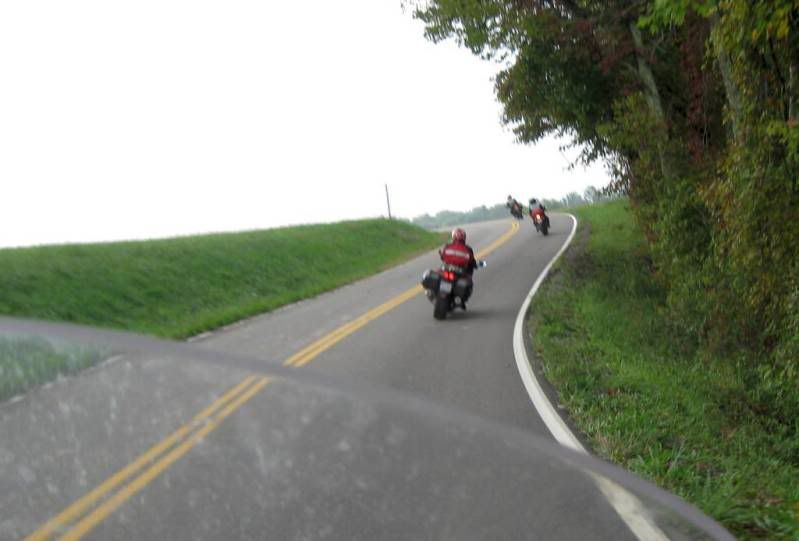 Hwy 260 SE Ohio
The first turn we made was onto OH556 aka, Ohio Dragon. At night. After a long day. With one rider whose running on a learner permit. I lead and spark my HID driving lights. Not much good the road is so twisty half the time I can't see where I'm going. After about an hour I looked at my GPS only to find were still 29 miles away! Long story short we rolled into Marietta around 10. The grill was closed by the cook was a good guy and whipped us up some friest with cheese on them. Mike got some wings with his and asked for hot sauce. The bartender whips out a freakin' MENU of hot sauces. Mike chose one called F.U.Z.E, which was named after the guy named Zack who used to be the cook. It stands for Fuck U Zack Eat it! Anyway, mike dips one of his wings into it and proclaims it good an not really all that hot. The bartender just laughs.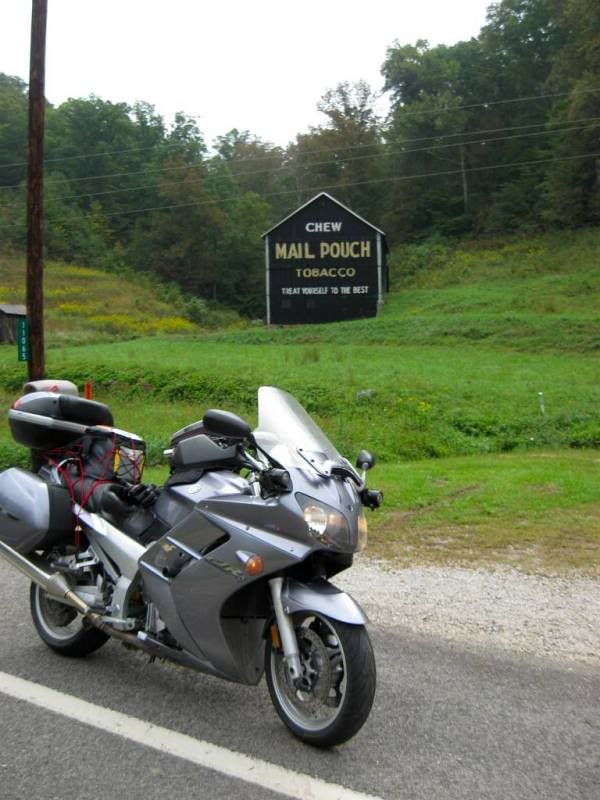 Chew Mail Pouch, this is the site of the 'dog person' thing in the abandoned building across the road.
So Mike dips the entire wing into it proceeds to get serious with his dinner. About 2 minutes later Mike starts hiccuping and can't stop. "Damn, that has a slow kick to it". The bartender just nods knowingly. Peter tried it. Peter is Mexican by birth. "Geez, that's fuckin.. OMFG!" He then proceeds to down his entire pitcher of beer. Mike is bordering on severe respitory distress between the hiccups and the heat now turning his esphogus into something like a smoked flesh pipe. Good times!
Sept 22nd
We ride SE Ohio out of Marietta starting with Rt 26. Gorgeous and manage to hit a bunch of other roads. I didn't want to leave. We were having a blast just following our noses. Each road seemed better than the last. I suggest SE Ohio for the next EOM. But all good things must come to an end so we ran backroads most of the way down KY. Finally we said piss on it and just jumped on I75 and hauled to Cumberland. Just as we pulled into Corbin, the skies let loose.
Sept 23rd
Cracked Ice. That was the name of the root. They're wasn't and description for it, but it was obvious from looking at it, this was THE twisty route. It was pouring rain when the 5 of us, Mike, Ryan, Peter and Al from Detroit, headed out. After about 15 minutes of secondary hwy it the route took us down some residential area. They must've had a twister go through because their was branches down and a tree leaning on one place, work crews were busy restoring power. A mile or so later we found a washed out bridge with a detour around it. Immediately after the road got very narrow and we were dodging chickens. They it turned to gravel. Big pea gravel, that, with the rain was like riding in mud. Great fun climbing up the side of a mountain, swerving around down branches and such. No god damn way! I find a spot to get the bike turned around. We head back out to the highway and on to the next excursion. Honestly, I grew up riding the dirt/fire roads in Northern Ontario. I know what a bad road is. I know of one 'road' that actually crosses a beaver dam. This was worse. It's so narrow that the side bags are rubbing brush. Their are rocks, and stumps in it. We passed a place with about 5 donkeys and they were braying at us because I figure they spent their lives MAKING this 'road'. Their is nowhere to turnaround. What ensues is 5 bikes, 3 of them over 600lbs. Trying get turned around by doing 137 point turns. By the time we got our asses out of there it was past noon. Half the day gone and we only have done about a 20th of the route.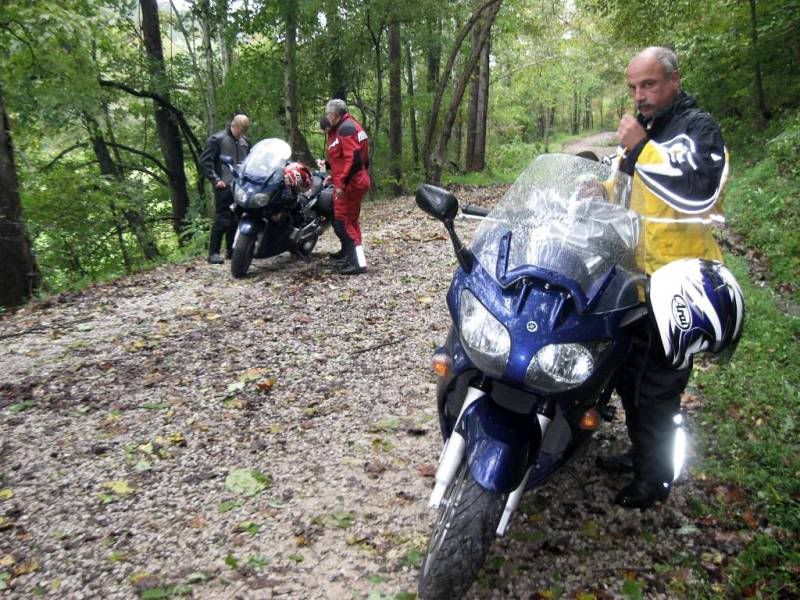 Al getting ready to bust a cap in my ass for taking him down this road.
We grab some lunch and regroup. We pick a bunch of roads that weren't much more than boring secondary highways. I was _PISSED_. I try to make the best of any situation, but after riding a thousand miles nobody expects this. Not even by accident. I've wasted a day of unpaid vacation time. So we did what any good Canadian would do. We went on a quest for beer. The 'boys' ran in for it and came out with 2 24's. Uhm. Dudes! We have two empty sidecases.. what ensues was breaking down the cases and puttin the extra cans in our pockets. After the BBQ the 4 of us, but mostly the 3 of them, consumed all 48 beers and a pretty good chunk out of my stash. I think we all slept pretty good that night.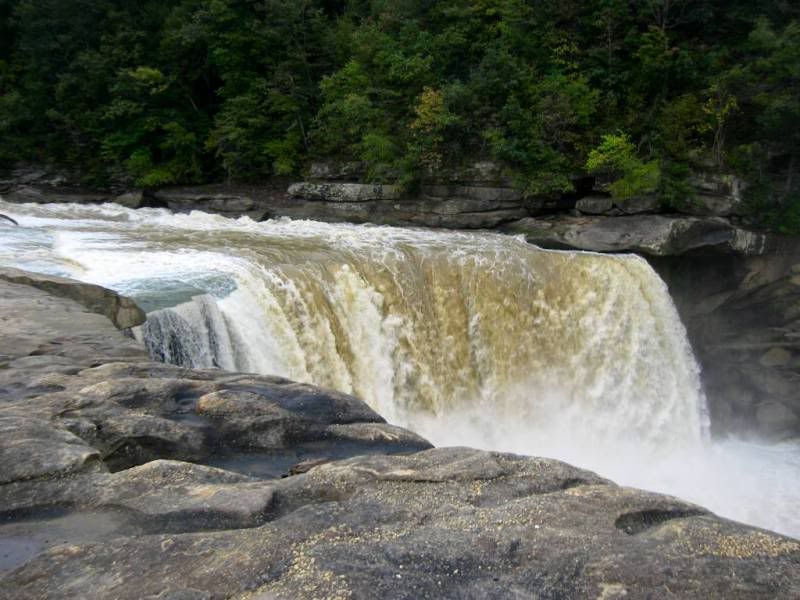 Cumberland Falls
Sept 24th (aka, Altitude Sickness Day)
My breakfast consisted of eggs, bacon, hash browns, OJ and Tylenol.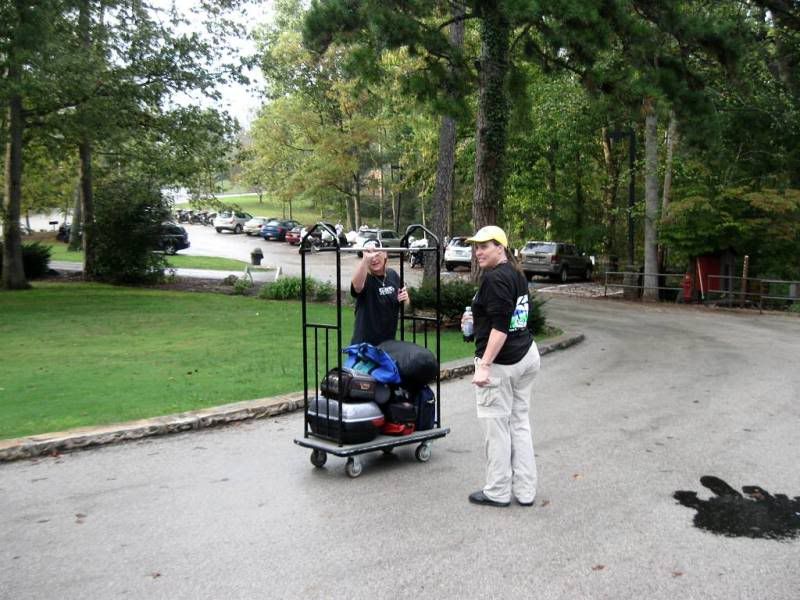 Heidi and Sharon
All official routes were deemed suspect at this time. Al made one up that looked really promising so we took that, but it was LONG. And it was good. I'll have to grab the tracks off my GPS, but we found ourselves in the far NE corner of the state, close to Virginia. At 4pm we made the call, we had to head back or else be late for the banquet. My head was pounding so bad that the 3 other Tylenol I took did nothing. On the way back the boys wanted to keep stopping for beer. We didn't have time for this. They the Mr. Roper Parkway (I forget the guy's name, but it sounded like that) was closed because they were redoing a bridge. The 4 guys went to the right in search of beer. I went left and found the best road of the day! KY461. About 25 miles of bliss. Next thing I know I find myself back on the Mr. Roper Parkway. I'm still about 80 miles from Cumberland, it's 5:30pm, I have a migrane and I'm riding into the sun. Theirs only one thing to do. Hit it.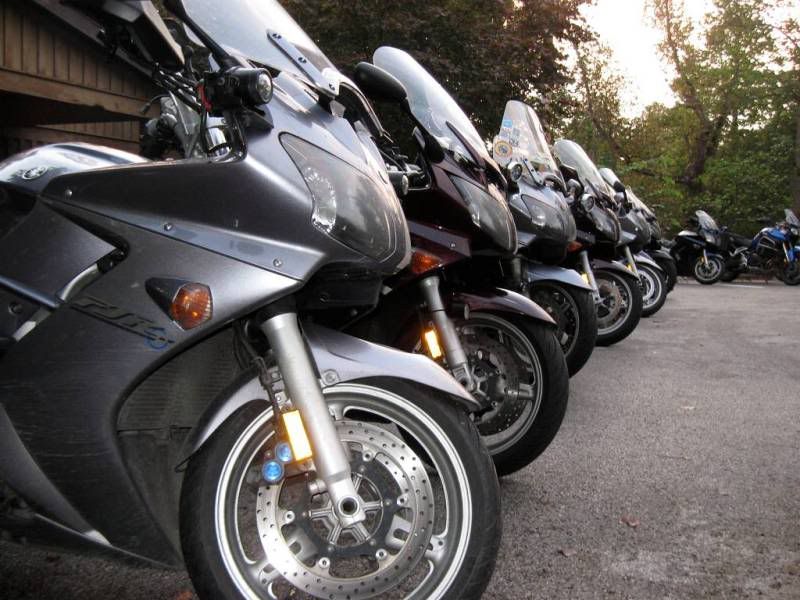 Bikes parked for the night
I pulled into the banquet just as the staff was clearing off the plates. I quickly grabbed one and loaded it up. They guys weren't there, and they didn't show up till about 30 minutes later. After the banquet festivities everybody spilled out into the party lot and emptied the back of Jasons car of beer. Good times. But I had to get up early the next morning and begin my trek back north.
Sept 25th
The bike is loaded and I'm not, I was up at 5:30am and was on the road just a bit before 7. Mike and the boys were headed toward the Snake and Rt 16 before turning north home so I was riding solo. I burned off a tank of gas before stopping for some breakfast. Slabsville. About 1pm I found myself really tired just south of Cleavland (just for Ol Michael). So I stopped for a stretch and some lunch. Back on the slab I ended up on I71 than onto I90. Approaching Buffalo the signs on the highway said their was a 0 - 30 minute wait at the border. Sweet. The next electronic sign said their was a major delay at exit 8, and to take exit 7 for the Peace Bridge crossing. So I did, and promptly found myself back on I90 right into the middle of a parking lot. CRAP. Looking up at the Peace Bridge I could see cars parked on it. No way am I going that way. The decision was made to do the Queenston crossing. Long story short, it took an hour and half. I was going to run all the way home but that 90 minutes found me unwinding enough that I knew I wouldn't be doing the entire trip in one shot. So called my brother in Barrie and that I'd be there around 10:30. Still, not a bad day's run. Probably close to 700 miles.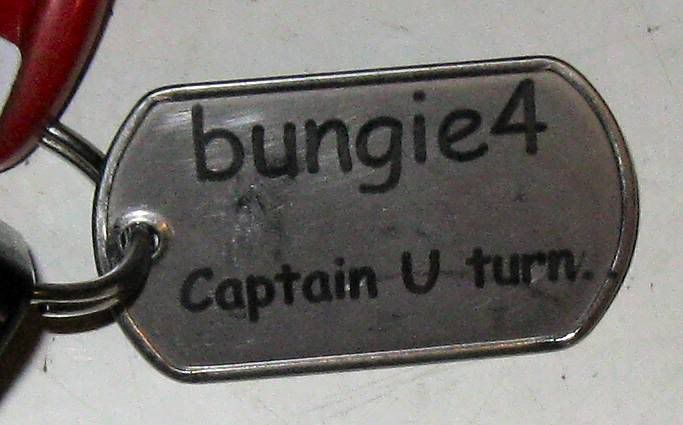 Bust made up a custom dog tag for me.
Sept 26th.
After conking out hard for the night I was on the home stretch. I was amazed at how much the trees had changed in just 6 days.
So there you have it. EOM 2011 is tucked away in my happy bank. What say EOM 012 in SE Ohio...