Revenge Tour 2011
Withdrawl?
Yup.
So here comes some some more photo-spam. It helps....
Alright. So anyway, had a GS for a couple months this summer. Decided to do a bit of a "revenge tour" to make things right from the previous year's "eventful" ride. (
http://www.fjrforum....post&pid=845941
) Spent some time learning to be better prepared for the solo-excursions off the beaten path. Got a bike better suited to the task, and bought a whole bunch of adventure kit. Didn't use a lot of it though haha. Still, had it all just in case and the confidence boost it gave made all the difference in the world.
Still a long way from a proper rough and ready sort, I was pretty tame when compared to the legions of proper adventurers out there. But sure as shit didn't feel like it at the time haha. Sure didn't help that I am f00king shit in the rough stuff. Still, pushed on as best I could.
Never really had a route planned except to get to Oregon and explore the roads I was trying to explore when I was victimized by the terrorist bear. Other than that pretty much just dicked around and set up camp most days when I got tired at the end of the day.
So.......the first leg of the journey.
To Oregon!
Kitted up and fully loaded.
Southern Alberta,
Central Alberta may be boring as all hell. Western Alberta may be where everyone flocks to. But Southern Alberta was somewhere I wanted to explore a little bit. It was a good idea. It's quite nice down there. Big skies. Lazy days. Nice place to unwind since it's got stuff to look at and you're pretty much alone the second you turn off the main highways. Plus if you're into the whole history thing it's kinda cool, and really easy, to visualize the place a couple hundred years ago. It's pretty untouched in a lot of ways.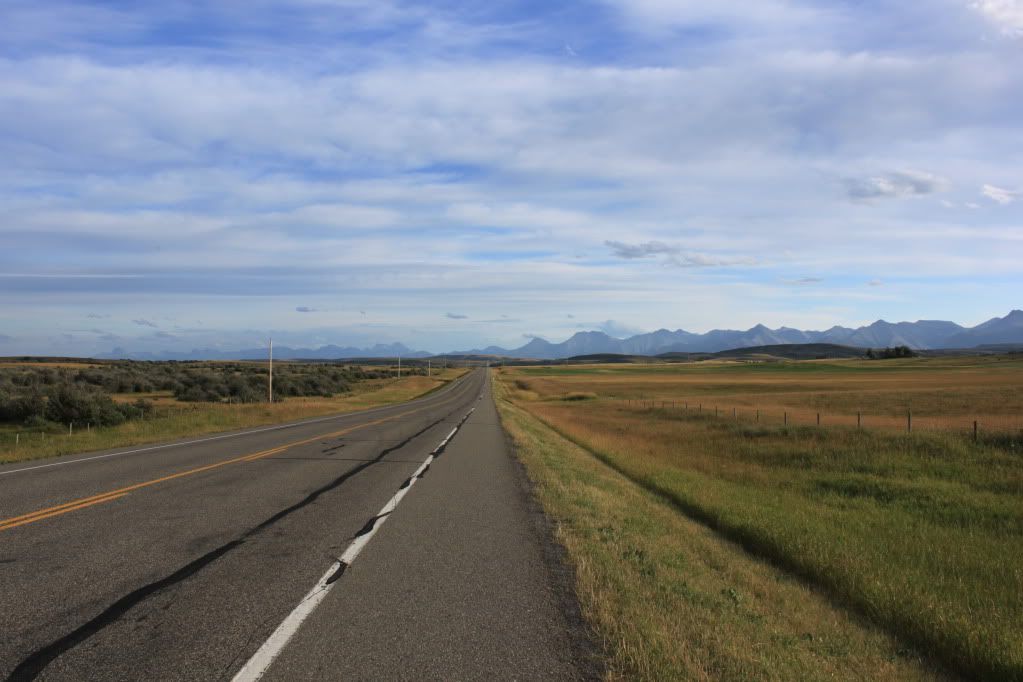 Edited by lonesoldier84, 12 February 2012 - 01:45 AM.