Hi there fellow riders and non riders, now that I got your attention from the "title". Needless to say, if you are looking for the other "toe" stuff, then perhaps you might want to try your favourite search engine for an alternative toe. Otherwise, welcome to my first real AUTHENTIC camel toe ride.
Follow up from my previous post of "moving to the UAE" a few moons back, I am happy to say my FJR is now in the UAE and riding it over the weekends with some fellow non FJR riders. UAE has a few clubs and just like any part of the world, riders from all walks of life share the same passion regardless of race, color, relegion or favourite Hummus flavor. I prefer Red Pepper paste
Here we go!
Before I shipped the bike over, took to my good friend FJRHAL. Hal replaced the pads, fluids, fixed a few "McGyver" wiring jobs that I had done but were not to Hal's "standards"
. He further changed the sparks, new tires and minor adjustments. Hal, many thanks for work you put it, well worth it.
FJR arrived by boat from LA and landed in Jebel Ali, local harbor in the UAE. After a few "formalities" and without getting into too much detail, they delivered it to my house on top of a pick up truck, tradditionaly used to carry vegetables, furniture and camels. But hey, it came in one piece. They pushed it onto a flat bed truck, lowered it to the ground and started up like a champe.
Full coverage insurance next day about $250 U.S drove it to our DMV "Road Transport Authority" for registration and plates. Paid roughly $45 USD for registration and plate. After inspection - blinkers work, breaks light up, horn (was not expecting the magnum blasters) the guy jumped about a foot - was expected the pancake type of beep
.
Here is the last pic of People's Republik of Kalifornia plates on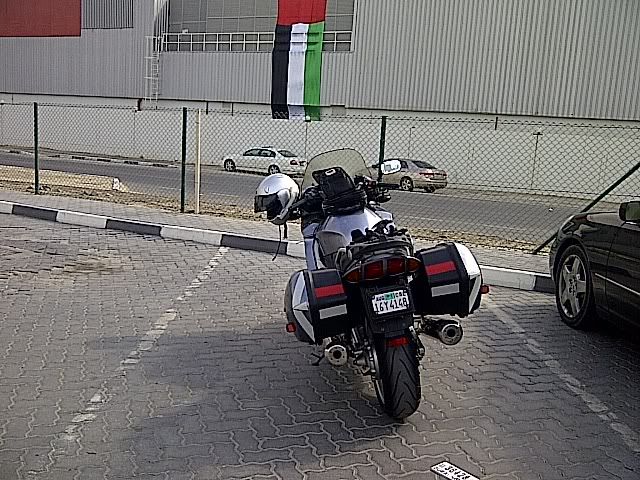 Here is a pic with Rajeeb R/R and Dubai plate is in!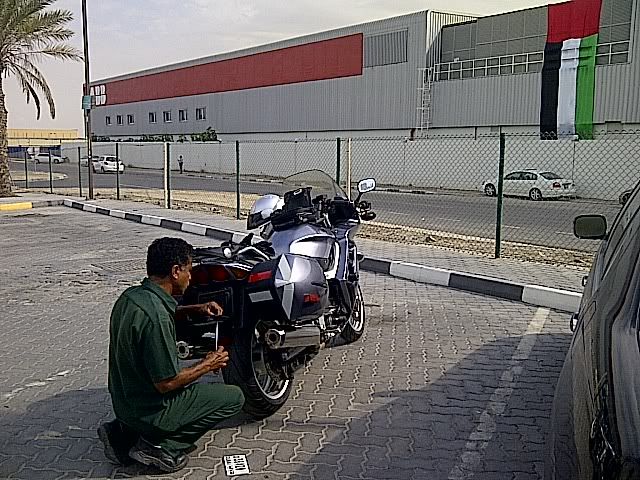 Took her out to the first UAE quality gas - quite good if I may add, we get 95 as low octane and 98 as high octane. Its a mandatory full service so you can not pump yourself. The guys at the pump know that and take full measure not to drip fuel on tank.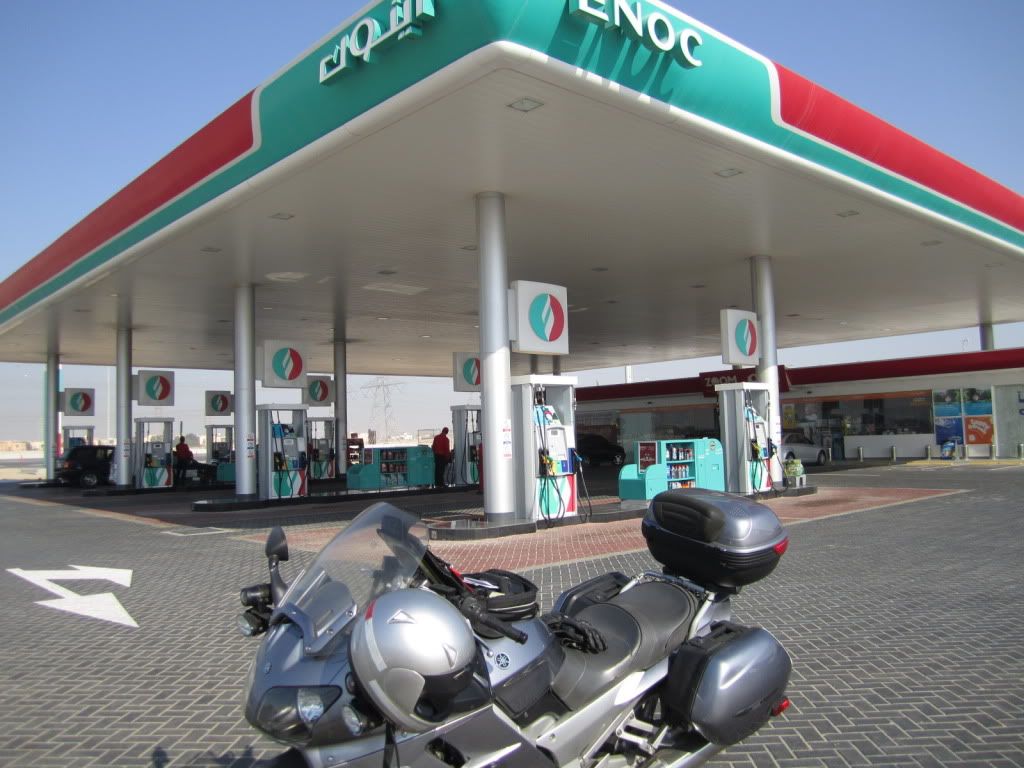 Checked the tire pressure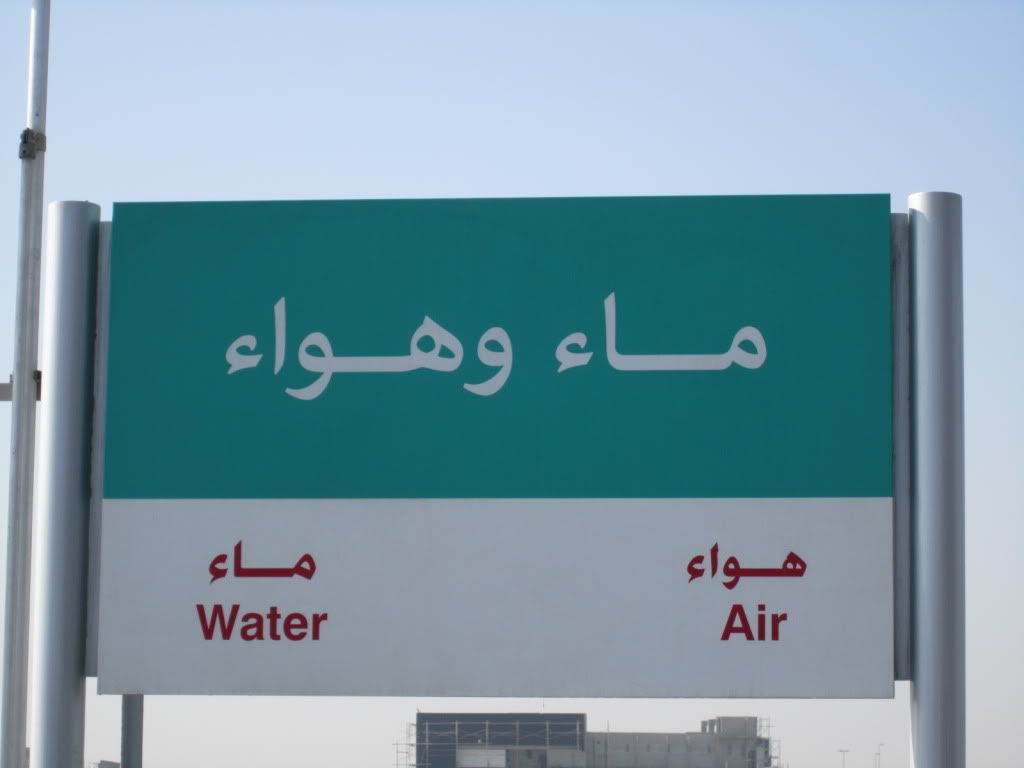 Here is me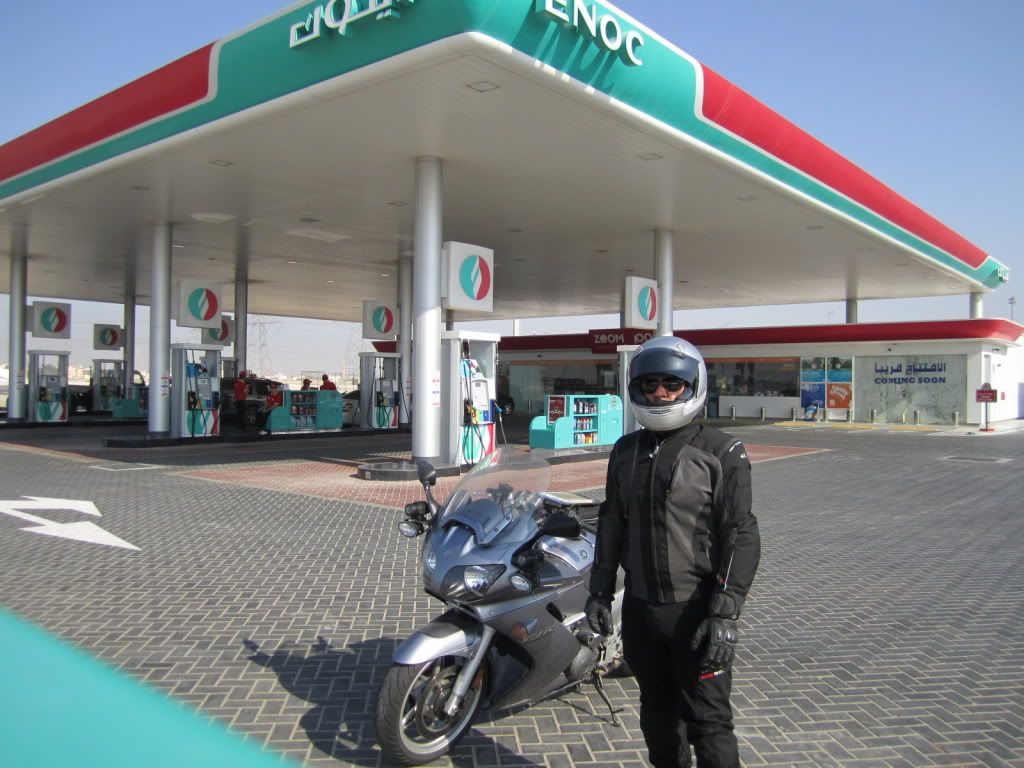 and off I went towards the "central" part of the country.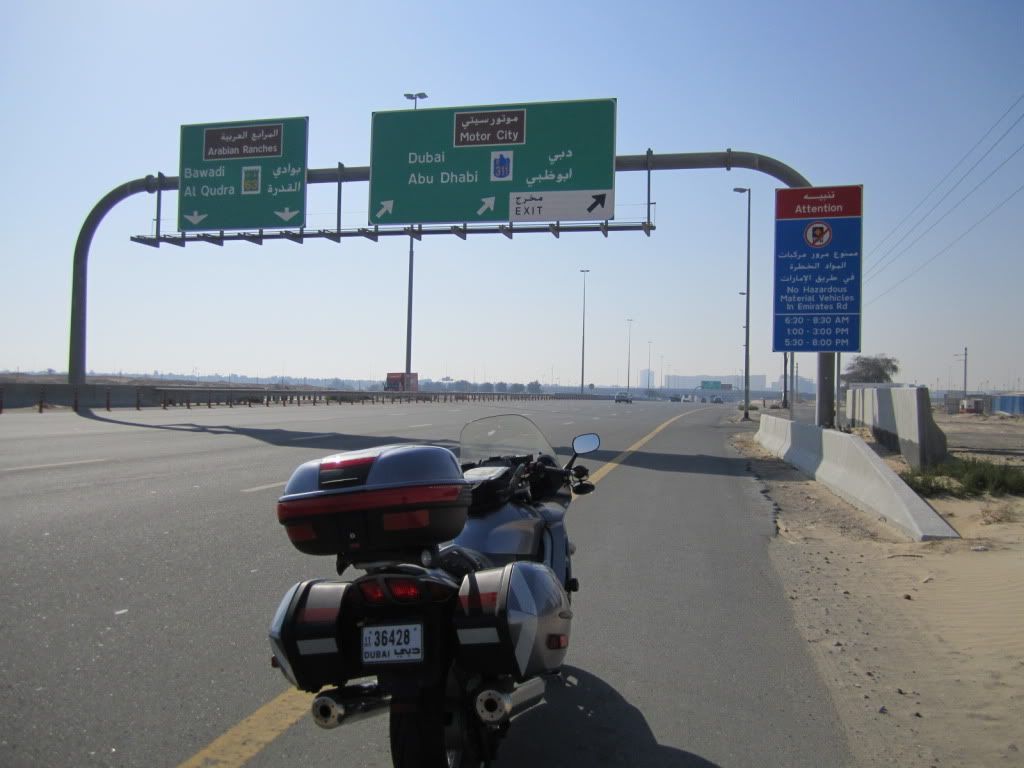 First stop is Dubai Land....
Dubai Land was suppose to have been the "Disney Land of the Middle East" and all the other "lands" but due to budget cuts, it became a bit static for the time being. So the famous attraction is now the Feejer. However, there is a Space Shuttle parked in the back of it by the high way.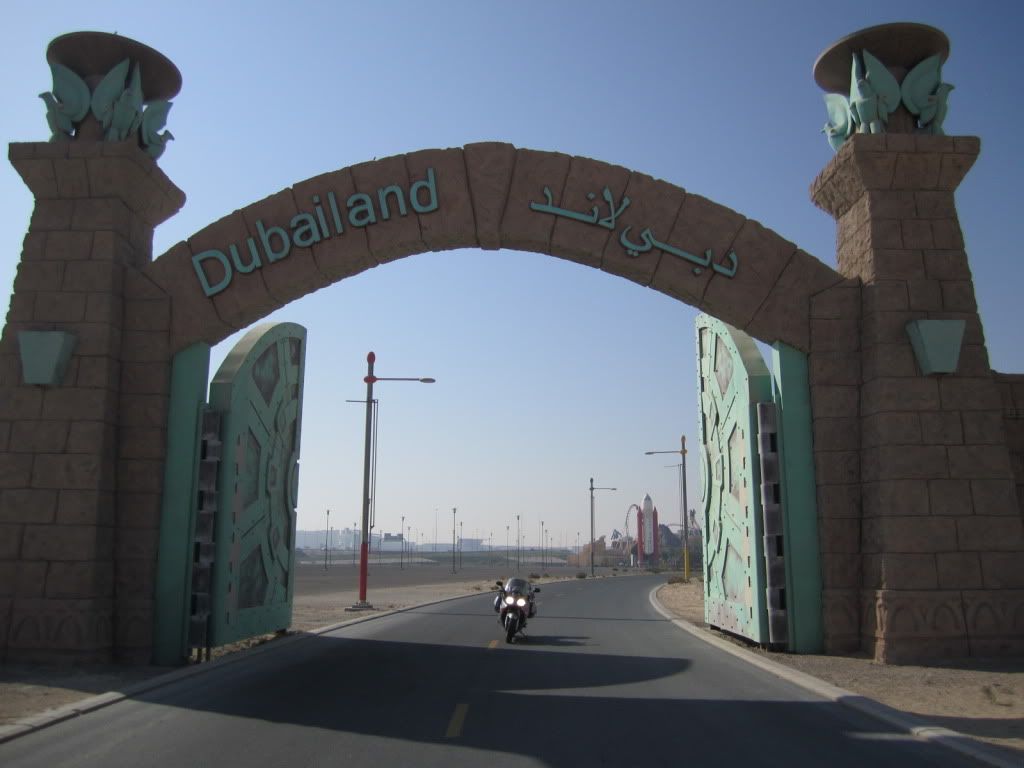 As you can see, only the entrance is made but behind it is sand. The management still promises delivery of this massive project sometime soon.
Went on towards "Sharjah" on the (Emirates Road) 311 highway, which is parrallel to the main "Sheikh Zayed" 11 highway.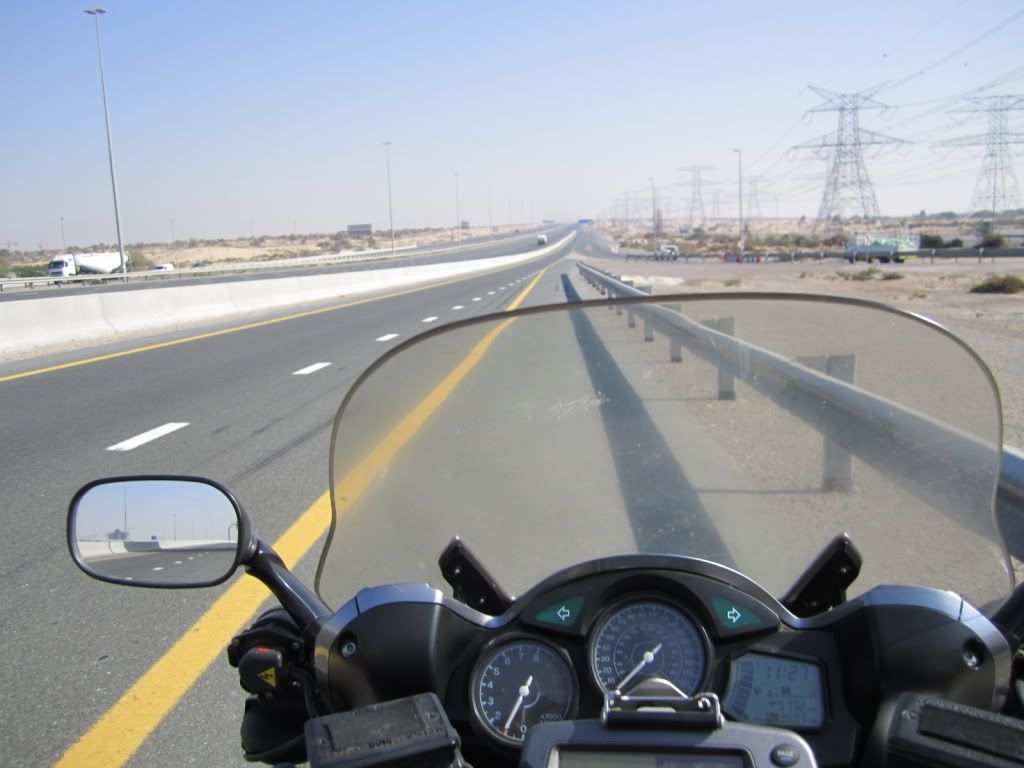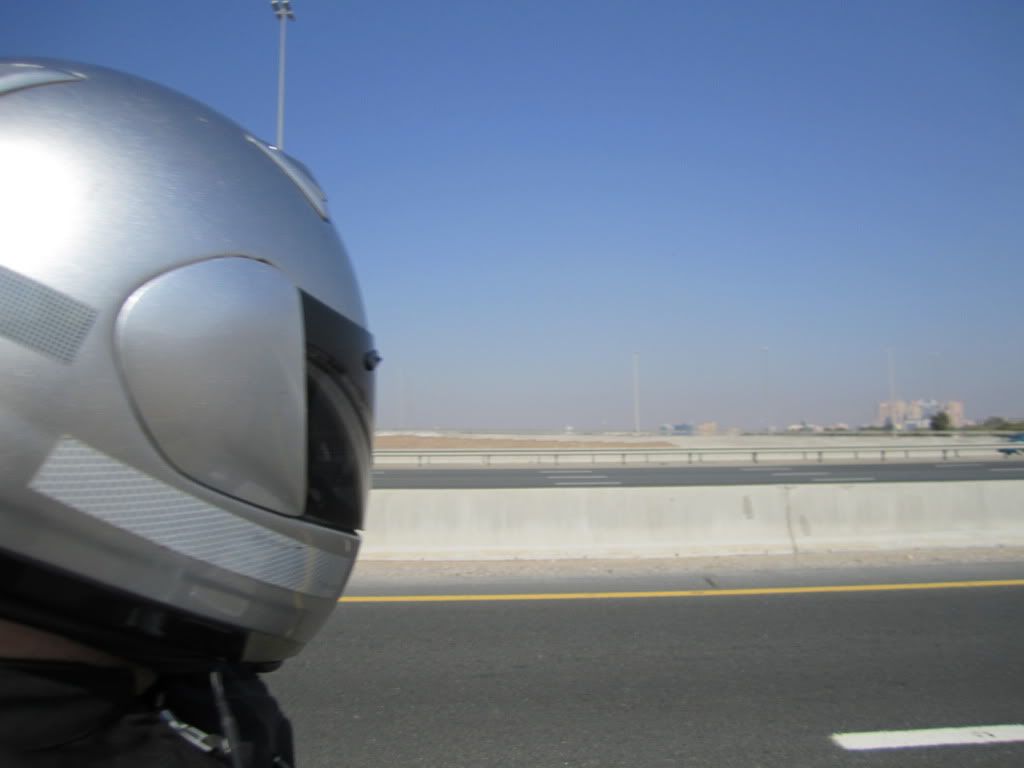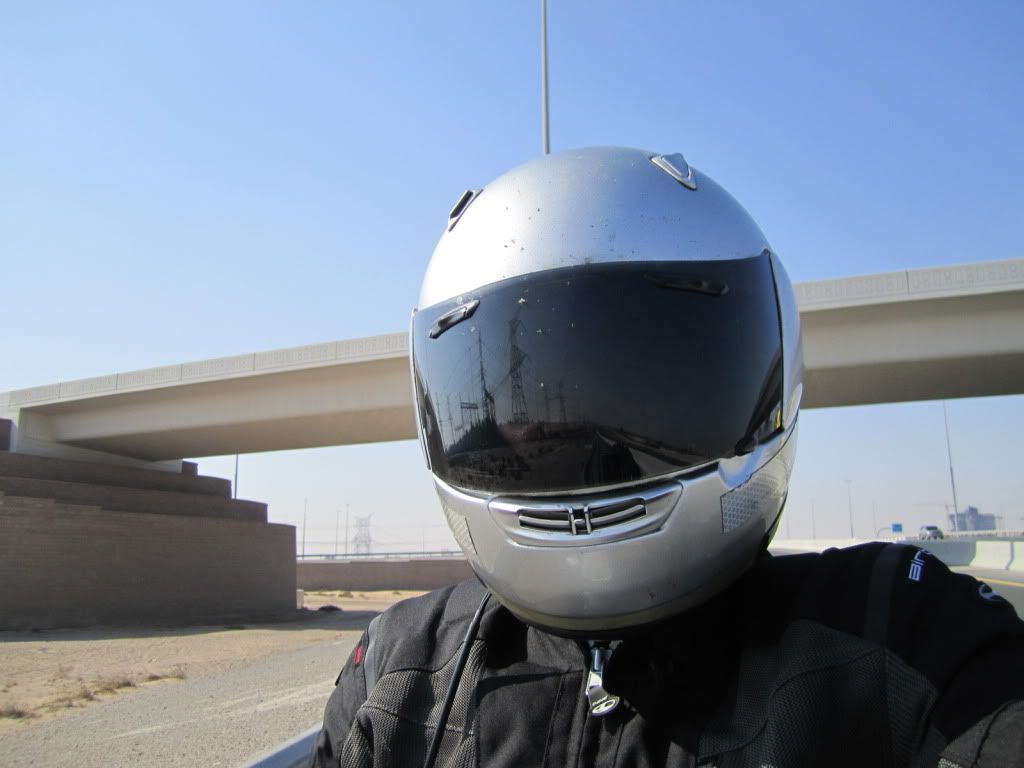 Emirates road is 6 lanes and sometimes 7 each way. Very nice ride but straight shooter. Speed limit is about 120 klm (75mph) but you can go upwards of 145 kl/h without getting a "forward facing camera flash"
Onto the center part of country