Making Grand Canyon replicas from air boxes...
Joined

Sep 2, 2006
Messages

951
Reaction score

17
Location
It's been snowing here, but I wasn't going to let that stop me from riding. I gathered up my wife, my brother and a friend, and we all headed one of our easiest twisty routes, thinking that the snowy conditions could make even an easy route difficult, so we'd start easy and see how it goes. We put on the cold weather riding gear and lowered the air pressure in our tires to get as much traction as we could.
Getting there was easy. The snow was already packed down hard on the main thoroughfares, so it was smooth riding with enough traction to inspire confidence. But when we got to the beginning of the fun stuff, we were faced with about 6 inches of untouched fluffy snow.
We'd come all this way to have fun, so we gave it a shot. I think I made it about 5 feet before the randomness of the snow decided to throw my front wheel out to the side. Luckily, I got my feet down and stayed upright. Undeterred, we pressed on. Sometimes we'd make it a good 30+ feet before another near drop, other times only a few feet. We quickly discovered that the trailing rider was having a much easier time due to the snow being packed down a bit from the riders ahead. We had a plan: make it through this first nice set of curves, then turn around, and ride it again. Each time through it should get easier.
About an hour later, we had made great progress. The snow was packed down well enough that we could start picking up the pace and having some real fun. We learned that higher speed cornering on packed snow required quite a different technique than dry conditions. You really can't depend on your front tire to get you turning around a corner, because it will easily wash out. The key is to tap the rear brake as you lean the bike in the direction you need to turn, but keep your body more upright while applying firm pressure to the outside peg. This gets the back end to slide out and rotate you into the corner, and it's much easier to control a rear tire slide than a front tire slide. Of course, looking through to the end of the curve is still a must, but still worth mentioning because it's easy to forget this when worrying about the slippery snow in the curve.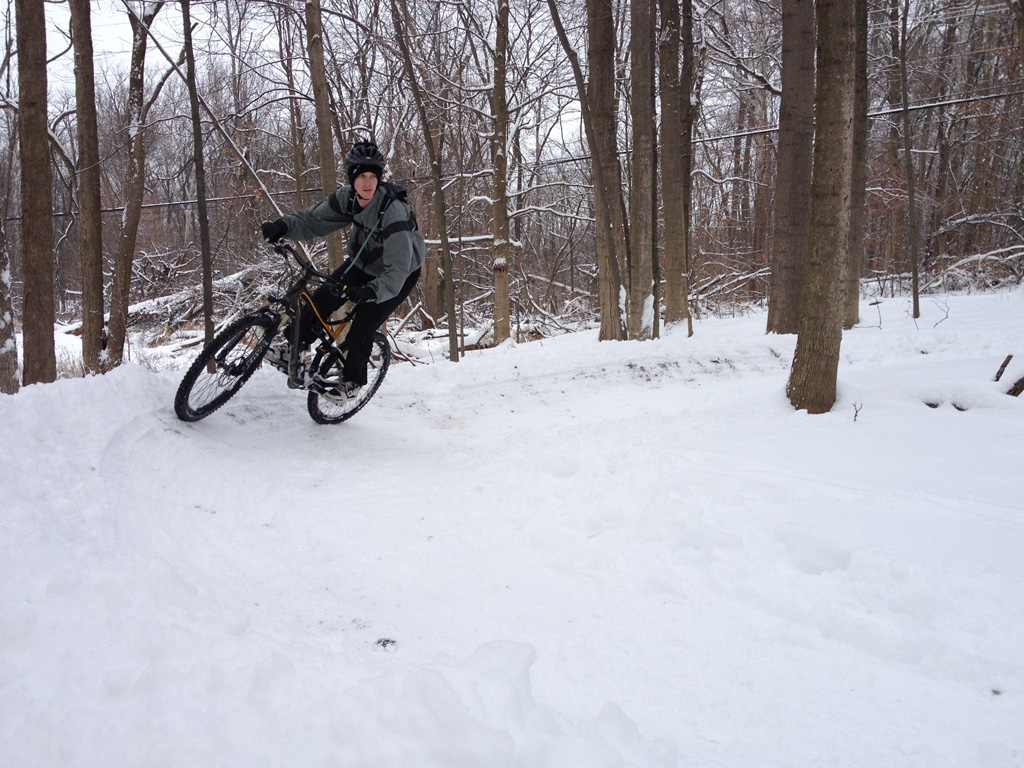 Even though we just kept doing the same set of about 8 curves over and over, it was lots of fun to keep testing the limits of traction in the snow. There were plenty of near-crashes due to sudden loss of traction on the front and quite a few full crashes. The banked corners were a blast. You could slide into them with speed, and they'd just catch you and push you around the corner. Except when you try going a bit too fast and both tires slide all the way up and over the top. Luckily, falling in 6 inches of fluffy snow is not very painful. Can't wait to try some more snowy trails!